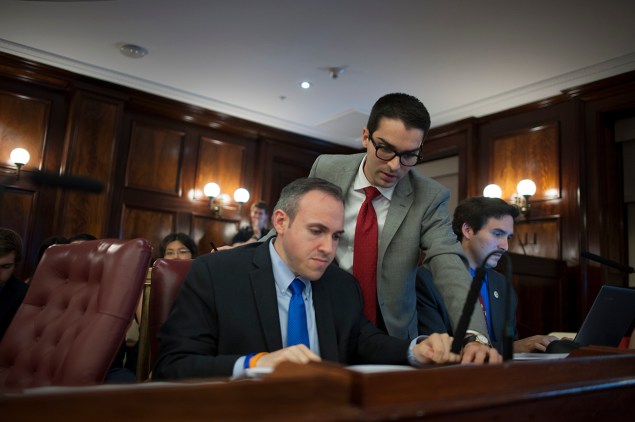 With billions of federal dollars having been turned over to the city to recover from Hurricane Sandy – and little of it making its way so far to victims – two City Council members are pushing for the Department of Investigation to take a role in monitoring the sluggish storm recovery.
Council members Mark Treyger and Eric Ulrich, who represent respectively areas of Brooklyn and Queens socked by the storm, introduced a bill last week to create a city monitor at the independent DOI to keep an eye on the money.
The bill calls on the commissioner to ensure that the department "investigate, review, audit and make recommendations" about the allocation, spending and reimbursement of costs related to Hurricane Sandy recovery – and investigate claims of waste, fraud or abuse.
The city has been allocated just over $4 billion in three separate rounds of money from the federal government in Community Development Block Grant funds for Sandy recovery efforts – the most well-known of which is Build it Back, the program aimed at rebuilding or repairing the homes of storm victims. Little of that money has gone to homeowners so far, though it takes considerable amounts of time and the approval of a federal action plan for the city to get access to each round of the federal funds.
So far, the city has started construction on 96 homes, and sent out 316 checks totaling $4.93 million to reimburse homeowner's for their own repairs, according to Mayor Bill de Blasio's office.
"Whether it's holding Build it Back more accountable, or making sure the city properly investigates cases of fraud and abuse, I am introducing this bill to ensure that every penny is spent wisely and honestly," Mr. Ulrich, a Republican, said in a statement. "This is common-sense piece of legislation will increase transparency and I look forward to its passage.
Mr. Treyger, one of the sponsors, is the chair of the council's new Committee on Recovery and Resiliency. The committee has held several oversight hearings on the city's recovery – particularly on Build it Back – often bemoaning the slow pace of getting money to homeowners. At one recent hearing, members chided the administration for failing to stay up to date with a previously passed law requiring the city to update an online tracker of where the money is going.
"Many homeowners, tenants and small business owners are still struggling from the impacts of Superstorm Sandy, so we have an incredible responsibility to get this recovery effort right," Mr. Treyger, a Democrat, said in a statement. "With so much money at stake, we have an obligation to prevent fraud and abuse so that storm victims can have full confidence in our ability to help every victim rebuild their homes, businesses and lives."
But the city's Department of Investigation says it's already keeping an eye on Build it Back and taking calls on fraud.
"DOI already is actively monitoring the Build it Back program and has a fraud hot line number specific to Hurricane Sandy on its website," a DOI spokeswoman said.
The department had previously indicated that it was conducting "integrity monitoring" on the Build it Back program, if not the full scope of the city's recovery – which also includes resiliency work and business recovery programs, which would be covered in the legislation.
A city government official told the Observer that DOI's focus on Build it Back was due to the program accounting for one the largest chunks of money in the city's storm recovery. The city is also planning spend a large amount of recovery dollars shoring up public housing, and that, too, will be monitored by DOI when its underway, the official said.
It's not the first time the council has looked to add to the Department of Investigation's plate, either – last summer the institution passed contentious legislation requiring an Inspector General for the NYPD.
Mr. de Blasio's office said it is reviewing the bill. The mayor overhauled the city's Sandy recovery several months ago, making some changes to programs and vowing to complete 500 construction starts and mail 500 reimbursement checks by the end of the summer. His office has pointed the rapid uptick in construction work and reimbursement checks since he took office — there had been no construction work begun nor checks mailed under former Mayor Michael Bloomberg, who created the storm recovery programs.
This story has been updated with comment from the Department of Investigation and additional information.