DASH-branded beach towels for $60. Polyurethane almost-leather jackets for $218. A supertight white minidress for $380. A thick pair of socks that say, "FUCK OFF."
These are some of the overpriced goodies we're surveying at DASH, the Kardashian sisters' brand new Hamptons outpost. It's been open for exactly one day. Set back from the road and nestled beside a trendy-ish restaurant, the boutique at 64 Jobs Lane is an exuberantly tacky postmodern haven for any fan of trash TV and trashier clothing.
We'd probably wear everything in here, we admit after 10 minutes of shopping.
We decided to venture out to Southampton as soon as we saw Khloé Kardashian's Instagram post announcing that DASH was now open at 64 Jobs Lane. The two reporters embarking on this deranged operation are certified fans of the Kardashians and their quiver of shows and products. We're hoping to catch a glimpse of them in Southampton.
We know we're supposed to hate them and why: They're famous for nothing! They have no talent! They like attention! Sex tapes are bad! But hey, they've got charisma — and opinions. They're more interesting than most celebrities. They prove it's possible to look chic and fashion-forward without being built like Gisele. Who needs someone like Kate Bosworth or Blake Lively, dressing appropriately while spouting PR-approved lines over and over like kale-powered windup toys, when Khloé Kardashian is available, armed with pleather and dick jokes?
And anyway, we can't work up the energy to be enraged by someone else's sex tape.
In addition to the wildly successful Keeping Up With the Kardashians, set to start its ninth season on Sunday, the family has "taken" many burgs — Calabasas, Calif., Miami, Manhattan — in spinoff series. But somehow, E!'s March 26 announcement that they'd be shooting a show in the Hamptons caused more outrage and ire than any of their other various hijinks. Judging by the Internet's reaction, you'd think the sisters were planning to shoot a porno on the White House steps.
Irma Herzog, the landlady who leased her art gallery space to the sisters for a new outpost of their DASH store, has allegedly become a pariah since news broke that she was enabling the sisters in their Hamptons takeover.
"Southamptonites are abuzz that Irma Herzog has betrayed their village … she brings trash to her backyard," a source cried to the New York Post, while also bizarrely implying that the Kardashians might bring a communicable disease like hepatitis A to the region. The Post published a lengthier story explaining locals' ire for Ms. Herzog yesterday.
But the Hamptons aren't exactly low-key. Sex and the City, Real Housewives of New York City and other reality shows have shot there. Diddy's yearly White Party is the stuff of debauched legend. And paparazzi photos of stars shopping in the Hamptons aren't exactly hard to come by.
So we decided to head east and find out if the locals really, truly feel the Kardashians will be the tacky hot-pink curly straw that breaks the camel's back.
Browsing the goods inside DASH, we're looking for something, anything to make note of while we start reporting our story. We wonder if the Kardashians have been inside the store yet, if they actually care what goes on in the store, if the (surprisingly friendly and attentive) salesgirls get to hang out with them much.
Then, "Man in the Mirror" stops playing from the overhead speakers. The boutique becomes quiet and we notice we're the only customers left. We hear a commotion at the door and turn around. The white-white-white walls have parted as two megawatt stars, the very two reasons we have made the deranged schlep out to Southampton this fine Tuesday, enter the boutique.
Shaking and now whiter than the decor, we turn to each other and try using our faces to emote. It doesn't work.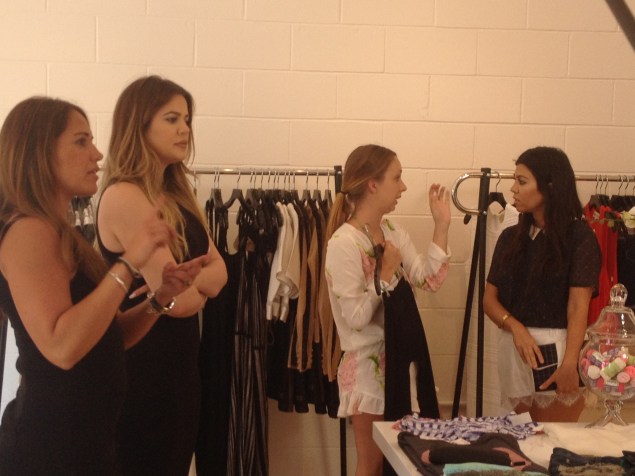 Yes, Kourtney and Khloé Kardashian are now shooting a scene in the store while two embedded reporters are lurking very conspicuously in the corner, lustily fingering a $150 cotton scoop-backed dress. We still don't know how this happened. We're pretty sure they think we're part of the staff.
The camera crew follows the sisters as they mill around the store, surveying the merchandise and layout and churning out bland conversation. Editors will no doubt reassemble this later into something that resembles a plot line.
"I like that light. It's cool," Khloe says. They introduce themselves to the four or five staff members one by one: "Hi! Do you live in the Hamptons?"
We're trying to stay off the sisters' radar, lest they notice two pasty interlopers with press cards are ruining every shot. We begin to ponder the ethics of it all. What would a scrupulous journo do right now? Throw up his or her hands and warn the Kardashians there is a reporter present? Remain chill, but scoot out of every shot so as not to appear in the show? Are we trying to be more Woodward or Thompson, here? We tacitly decide to pretend we are normal shoppers.
Khloé tells the employees the sisters' rental house in North Sea Harbor is "on the water" and "very Hamptons-y." Later, some Hamptonites will tell us that this is actually a less ritzy neighborhood, on the bay-side of Long Island rather than the ocean. Everyone is surprised the family didn't rent on Dune Lane.
Jordyn comments to Kourtney, who's surveying a pile of T-shirts, "Kourtney, these clothes are amazing."
"Thank you, we're going to get lots more," Kourtney says, her confused expression belying the sickly sweetness of her voice. Who the hell are these freaks?, she must be thinking.
The scene itself is dull. We're waiting for a funny moment. The sisters are surprisingly all business. Finally, the humor — "humor" — comes.
"FYI, I think this is a fat mirror unless I really look like that," Khloé says, observing her reflection near the store's dressing area. This will be the scene's closing one-liner, we predict, followed by an "ain't-she-zany!" sound effect.
After they've made the rounds and shot about 20 minutes of footage, the ladies leave, towing their cameraman and five-or-so attending crew members with them. Then, the most shocking thing of all happens: one of the women working in the store calls a higher-up and explains in detail how the sisters liked the store.
"The girls just left," she tells the person on the other end of the line. "They love it. They just want more merchandise. Unless I want to pay $150 to ship it, it's going to take some time. But they love it."
So this really was their first time visiting the store — unless this particular store manager is a method actress who refuses to come out of character even when the cameras are gone? But that's not likely. It seems like the sisters really were checking out the store for the first time. The workers really did need to impress their bosses.
What are we going to find out next, Kim's marriage to Kris Humphries wasn't staged and Bruce Jenner really is trying to become a woman?
***
The next phase of our investigation will involve interviewing Hamptons locals. We decide we need a snack before we start those talks, so we head toward 75 Main, an eatery in the middle of Main Street that hits somewhere between cheesy and chichi.
But the Kardashians have beat us to it. As we approach the restaurant, they're to our right, crossing the street while a paparazzo (or their own hired photog?) snaps pictures of them.
As Kourtney and Khloé sit at a table and pick at salads, a small gaggle of seven-to-14-year-old girls assembles outside the restaurant, taking pictures on their cell phones and giggling nonstop. Don't they realize they can just walk inside the restaurant? It's pretty empty in here, and all of the windows and doors are flung wide open for optimum paparazzi access.
But something — reverence? — stops the girls from crossing the threshold. Munching our subpar fries across the restaurant from the sisters, we wonder what the tweens think the Kardashians' jobs are.
***
Many of the business owners see the sisters as an economic boon. Hamptonites have to put up with huge crowds all summer to make a living, anyway. What are a few more people, as long as their wallets are open? And even if they attract crowds, how much more crowded could the region possibly get?
Zach Erdem, the owner of the aforementioned 75 Main, is already enjoying press from the sisters' Tuesday lunch. His name appears in bold alongside theirs on UsWeekly.com. And rumor has it that Ms. Herzog gave the sisters free rent at 64 Jobs Lane in exchange for publicity for her neighboring restaurant, the Driver's Seat.
Other merchants remain dubious as to whether youngsters gawking at the sisters will actually spend any money. The manager of one local store, for example, declined to let the sisters film on the premises, out of respect for her regular customers.
The residents whose livelihood doesn't depend on tourists' cash insist they don't have strong feelings on the matter.
"It don't affect me one way or the other," one local tells us. "They wanna make a scene, make a scene."
This is how most locals react when we approach them. Then, after a beat, they spill their guts about the famous family.
At Stitch, an alterations shop, employee Bety Venturella plays it off like she's not fazed by the sisters' presence in her town.
"I don't necessarily think it's a great thing, but I don't think it's a bad thing," she says. "This is the Hamptons. Everybody wants to be here in the summertime, why wouldn't they?"
Some people, she admits, "are worried they're too trashy, going around and flashing wealth. But that's what goes on in the summertime. That's just part and parcel. All the fundraisers, the galas, the art, music, everything."
As Ms. Venturella's explaining that the Kardashians haven't visited her store yet, the phone rings. The caller seems demanding.
"Why do we have to come to her?" Ms. Venturella asks. "Is it a Kardashian by chance?" There's a pause. "I knew it! I knew it!" she says, flashing us a grin and a thumbs up.
At Breezin' Up, a store that sells Southampton-branded merchandise, employee Elijah Hutchings is wishy-washy at first about his feelings on the sisters. It's a far cry from the sentiments of the venomous (but nameless) residents quoted in the Post. The prevailing attitude is that the Kardashians are somehow sullying the Hamptons this summer — but it's not clear who actually thinks that and why.
"I've seen a ton of celebrities around here," Mr. Hutchings admits. "I've never seen celebrities that have brought out people like that, though, like the Kardashians did today."
To be fair, there was only one paparazzo following them. The group of iPhone-bearing tweens was a lot to take, but they were polite and quiet, and the scene outside the restaurant was far from bedlam.
Still, most famous people stay out of the public eye in the Hamptons, Mr. Hutchings says. He doesn't even know about their presence until photos pop up online days later — but they're still attracting photographers.
"They're the kind of celebrities who like the attention," Mr. Hutchings's coworker, who wants to stay anonymous, says. "I think everything to them is business."
One might argue that "everything is business" is the de facto motto for most celebrities. Some just prefer to hide that fact, while the Kardashians don't seem to care who knows about their capitalist tendencies — and the American public, while continuing to stay abreast of the family's every move, seizes on the chance to punish them for it.
Plenty of other celebrities make news for their bad behavior in the Hamptons, though. Once, Mr. Hutchings's friend was at the same bar as Justin Bieber. The friend's bowtie somehow ended up with a girl who was hanging out with the pop star (#hamptonsproblems), and the friend asked for it back. We Googled the story — it checks out.
"I guess [Mr. Bieber] thought it was an insult or something, and his security guard starting beating [my friend] up," Mr. Hutchings says. "My friend was a model, so he tried to sue him, because I guess that's like, ruining his work, his livelihood. So he tried to sue him, but I don't think he's going to win."
It shouldn't be news that the region isn't the beachside Mayfield we've all been led to believe it is since news of the Kardashians' new show dropped. Inelegant celebrity antics are plentiful, many of which make it to the tabloids. But for some reason, people are most rankled by the Kardashians.
***
"I don't get it," the driver says as we leave Southampton. "My girlfriend's obsessed with the Kardashians. I don't get it. I guess it's a girl thing."
Somehow, though, he knows all of the rumors. Butt implants, gender transitioning, marriage, children, divorce. He know's each family member's marriage history (or lack thereof). And he's got opinions.
"They're famous for nothing," he says.
"Well, they've got charisma," we insist. "Like Elizabeth Taylor, Marilyn Monroe. Vince Vaughn, but unscripted."
"Aw," the cabbie replies. "He was great in Fred Claus."
Later, the topic of Justin Bieber comes up when Jordyn reveals she's Canadian. Our driver first asks if she can "take Justin Bieber back" to Toronto, then comes to his defense.
"I don't know why people bother the kid," he says. "He's making millions and hanging out with girls. Leave him alone."
"Kind of like the Kardashians?" we venture.
"The Kardashians have a different origin," he says. "She kind of got on the radar with the sex tape. But she's a beautiful girl."
***
In the 20th century, Americans were united by the feel-good family comedies they loved — I Love Lucy, Leave It To Beaver, The Brady Bunch.
Now, though, we unite in our loathing of the Kardashians and their TV shows and cottage industry of books, fragrances, diet pills and Sears clothes. We can't understand why they license their images over and over again, like a bunch of mink-eyelash-extensioned Star Wars characters. But they're still our modern-day, spray-tanned, Brazilian-waxing, vocal-frying Brady Bunch.
We're supposed to hate them because they are blatant about their hunger for fame. We're supposed to believe aren't talented — whatever that means. But we never examine why these things actually bother us. The Kardashians should be ashamed of themselves, we say. But they're not, and that's what pisses America off.
As for the Hamptons, we're pretty sure they'll survive the Kardashian invasion this summer. The locals could find themselves laughing all the way to the bank thanks to the sisters — and it's not like the Hamptons were a deserted, quiet hamlet before this TV show started shooting there. The family wouldn't be filming there if it wasn't already a world-famous mecca of materialism and conspicuous consumption, would they?