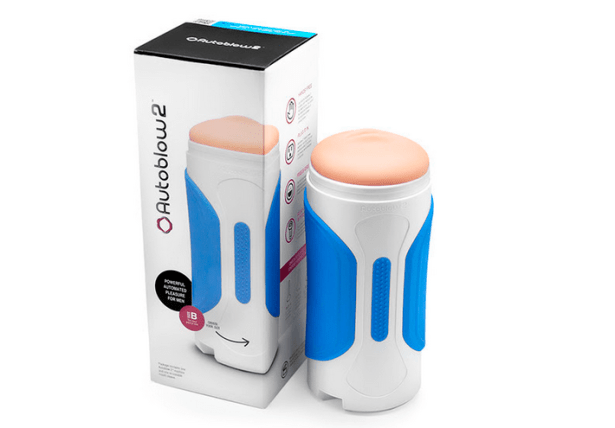 Get your wallets out, dudes, because the sex toy that claims it's "the world's most realistic robotic oral sex simulator for men" is now available for pre-order.
The legendary device is called the Autoblow 2. Unlike a Fleshlight — which is operated by the movement of a user's hand — the Autoblow 2 operates electronically. Users just have to plug it into the wall, insert themselves into the rubbery sleeve, and let the device's beaded rings slide up and down the outside of the sleeve. It's basically a robot blow job.
The Autoblow 2 is apparently rather revolutionary. "It will be the first electronic stroker [Ed.: STROKER?!] (it plugs into the wall), the first stroker to work with 3 sizes of interchangeable sleeves, and the first mechanized male pleasure product built to last for years," the press release states. "The motor is rated to last over 500 hours, or for 1500 solo experiences. [Ed.: or a week's worth of fapping, for those of you on Reddit.]"
The product became a reality thanks to Indiegogo, where it set out to raise $45,000, and ended up with $280,247 by the time month-long funding period ended last week.
Customers who pre-order the Autoblow 2 will pay $129 instead of the full retail price, $150. The product ships in July.
"I see a future where men own high tech masturbation appliances that are a normal part of their daily lives," creator Brian Sloan (the guy in the video below) said in the release. "The Autoblow 2 is the first step in that direction, and a giant leap towards improving the realism of the male masturbation experience."
[vimeo 91265854 w=500 h=281]