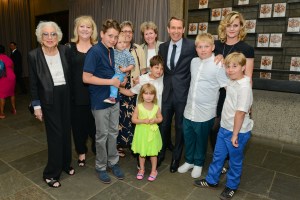 "Dad! Dad! Dad! Dad! Dad!" screamed Eric Koons, who at six years old is the second youngest of Jeff Koons' seven children. The mop-haired rascal had been briefly separated from his father outside of the Whitney Museum, which last night hosted a cocktail party for "Jeff Koons: A Retrospective," a massive day-glo celebration of all things good and bright and beautiful, 150 Koons sculptures and paintings spread over five floors, all devoted to that original perpetrator of '80s excess who's now the art market's enduring bellwether. It's also the Whitney's final show in this location, a swan song to this blocky but beloved Upper East Side bastion of outré American art before it moves to the Meatpacking District.
It seems everyone must share their polarized opinion about Jeff Koons and this show before it opens to the public Friday, but last night, the crowd was in pro-Koons mode. Nearly every major collector and dealer who has minted fortunes off his work milled around what is soon to be the Metropolitan Museum of Art's exhibition space, gushing and sighing at every sparkly orb. Billionaire Las Vegas hotel baron Steve Wynn, the owner of big Koons balloons like Popeye ($28.2 million) and Tulips ($33.6 million) dragged his tan mug through the lobby and downstairs to the cocktail reception, passing by fellow collectors like billionaire industrialist Dakis Joannou, billionaire casino owner Neil Bluhm, and billionaire philanthropist Eli Broad.
"It's the best installation of his work I've ever seen," Mr. Broad told us. The collector had flown in from Los Angeles, where his Broad Museum will open next year in a sprawling downtown space next to the Walt Disney Concert Hall, just an hour earlier.
"You know, I think if you go back, and you think of Duchamp and Warhol, Jeff falls in that tradition," Mr. Broad went on. "I think he'll be viewed the same as Warhol and Duchamp in due time."
One can only wonder what the youngest batch of Koons kids thought of the retrospective, especially the third floor, which houses his "Made in Heaven" series, where Mr. Koons is full frontally displayed in enormous prints frolicking with his ex-wife, the Italian parliamentarian and porn star Ilona Staller. No, little Eric, that is not mommy. Though, if the artist has neglected to teach his children about the birds and the bees, one piece titled Ilona's Asshole will likely do the trick.
In any case, the tykes seemed to be on good behavior, escorted around by a nanny as the grownups explored the exhibition. We saw Arianna Huffington carefully reading the text accompanying The Dynasty of 34th Street—"On the walls hung framed Nike posters whose stars Koons saw as 'sirens' beckoning young people (particularly African Americans) with the social mobility through sports"—before the boy wonder curator Scott Rothkopf came to talk with Ms. Huffington (who is no stranger to sponsored content and native advertising) about Koons' method of appropriating brands.
(Here is where we'll duly note that the night was generously sponsored by H&M, for whom Mr. Koons has designed a purse with a puppy on it, on sale at all H&M locations for $49.99).
The action culminated on the fourth floor, where the crowd was drawn like magnets toward Play-Doh, the massive sculpture that the artist spent 20 years and a fortune trying to create. In 1994, Mr. Koons decided to recapture the one-time plaything of his son, Ludwig—the child borne by Ms. Staller, estranged from his father for two decades, and not at last night's opening —using polyethylene, and realized he was a bit in over his head. Until now, it had never been displayed in one piece.
Seemingly all of Mr. Koons' New York peers came out to kiss the ring—Cindy Sherman, Rachel Feinstein and John Currin, Carroll Dunham and Laurie Simmons, David Salle, Brice Marden, and Urs Fischer all milled around. Tina Brown chatted with Bob Colacello and Peter Brant, before Mr. Brant brokered an introduction between Ms. Brown and Mr. Koons. The two had apparently never met. Bill Cunningham ran around snapping pictures, and an enterprising young man asked the veteran shutterbug if he would indulge him in taking a selfie (no dice). A room over, in front of the peep show schlock of Mr. Koons' Elvis, Steven Cohen caught up with Larry Gagosian.
"I think it's fantastic," Mr. Gagosian told us of the show, walking and talking. "I would give it a rave, an absolute rave!"
Then Mr. Gagosian yelled to some associates that it was time to leave, but on the way out he bumped into David Zwirner, who sent the art world into a frenzy last year by doing his own exhibition of work by Mr. Koons, which ran concurrently with a major show Chez Gagosian. After the collision, the two engaged in an extremely brief handshake.
As dinner hour approached and Koons revelers began to make their way over to the Central Park Zoo (yes, the Central Park Zoo) the nanny scooped up the youngest Koons and shooed the other kids toward the stairs. It appeared that the busy Mr. Koons had a tiny window amidst the endless stream of glad-handing, so we sidled up to him to ask him about this little show of his.
"I'm absolutely thrilled," he told us, as Play-Doh loomed ten feet above in the background.  "It's very meaningful to me to be able to see over 35 years worth of work."
The crowds around us beckoned, so we quickly asked about the finality of this show, the last exhibition at an Upper East Side Whitney.
"The museum's always had a big impact on my work," he said. "I'm an artist and I've always enjoyed the concept of the avant-garde, the idea that you can change your life through art, that you can change the community through art, and I've always wanted to participate…—hold on, I have to go say hello to a friend."
And then Mr. Koons walked over to talk to Stephanie Seymour.
Koons Klock: 43 hours, 25 minutes to Koons.