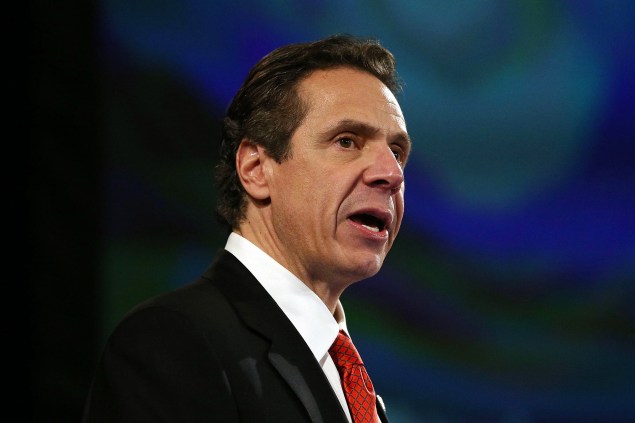 Gov. Andrew Cuomo today criticized a comment by a top aide to Republican gubernatorial candidate Rob Astorino that referred to GOP State Senate Majority Leader Dean Skelos as the state executive's "prison punk."
"There's no place for ugly language by anyone," said Mr. Cuomo in a radio interview. "The fact the Senate is cooperating with the Assembly is cooperating with the executive, that means government is working. That is a good thing, not a bad thing."
The governor then positively contrasted the cooperation in the New York State government with the increasingly polarized partisan atmosphere in Washington.
"That is what should be mocked, this gridlock," the pol argued. "The government is supposed to function."
Astorino consultant Bill O'Reilly yesterday commented online on Mr. Skelos's decision to celebrate with Mr. Cuomo when the agency Moody's upgraded the state's credit rating, and referred to the Republican leader as Mr. Cuomo's "prison punk," a slang term alluding to the informal system of physical servitude in the American penal system.
Mr. Cuomo, speaking on WCNY's Capital Pressroom program, began by saying he would not comment on what he referred to as a "Republican squabble" but then criticized the remark and argued that his good relationship with Mr. Skelos has benefited New York State.
Mr. Cuomo pointed out that the state government's delivery of four consecutive on-time budgets encouraged Moody's to improve its credit rating to its highest level since 1975, which he said would save New York millions in interest paid to state bondholders.
"What Moody's is saying is that New York's government is working, for the first time in years. When government works it's good for everyone," Mr. Cuomo said.
Mr. Astorino in a radio interview today said Mr. O'Reilly shouldn't have used the term.
"That was the wrong analogy to use," Mr. Astorino said. "I wish he hadn't said it."