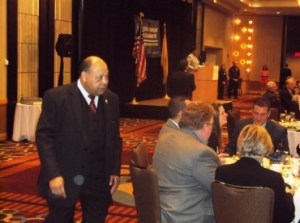 Don't expect to see Democratic State Party Chairman John Currie at Mayor-elect Jose "Joey" Torres' swearing-in ceremony tomorrow.
"A scheduling conflict," explained the chair, who also leads the Passaic County Democratic Party that Torres defeated in becoming mayor.
Currie plans to head to Newark for Mayor-elect Ras Baraka's oath of office ceremony with former Gov. Dick Codey.
"If Joey doing this to help Paterson, I'm all for it," Currie said of Torres' decision to enlist Republican Gov. Chris Christie as his big-name draw.
(Bayonne Mayor-elect Jimmy Davis will take the oath from U.S. Sen. Bob Menendez (D-NJ).)
While not publicly chastising Torres, Currie pounced on Christie's expected line-item veto of a $34.1 billion budget submitted by Democrats that would restore payments the state promised to make to its pension fund.
"If the governor uses the line item veto, it will underscore his failed leadership, misguided priorities, and refusal to honor the commitment he made to New Jerseyans. The fact is, Chris Christie has been more harmful to New Jersey's economy — and our reputation — than a tax increase on millionaires could ever be," said Currie. "Chris Christie swore to impartially and justly perform his official duties, and to promote prosperity for all of our citizens, not just his rich Republican cronies. Instead, he continues to break promises to pensioners, Sandy survivors, immigrants, commuters, and others, while saddling hard-working middle class families with the costs of his political gambits."