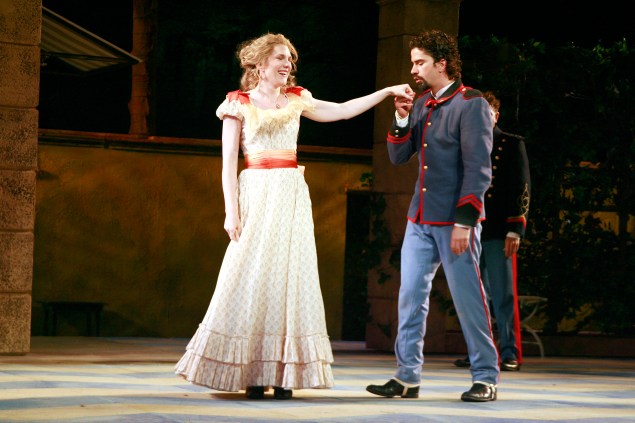 There's something about social leisure en plein air for harried urbanites. Despite the cruelty of New York summers, we relish time outside, from grubby curbside brunches in the East Village to endless pours of rosé on a twilit Lincoln Center terrace.
---

1,700

Estimated number of parks, playgrounds and recreation facilities across the five boroughs

9,000

Attendees at June's Jazz Age Lawn Party

---
"Outdoor dining makes New York more livable and kind," chef Daniel Boulud explained to Shindigger at the French Institute Alliance Française's ceremony to hand out the first Art de Vivre Award, which honored Mr. Boulud's friends Elisabeth Holder Raberin and Pierre-Antoine Raberin, co-presidents of Ladurée USA. "It's very European, hein?" he offered in his Lyonnais accent before listing the many marvelous outdoor eateries he runs around town. 
The Raberins have recently unveiled a gem in Soho that boasts an exquisite open-air garden, replete with a fountain and cherry trees, as well as sumptuous interior appointments.
"The best compliment is when people say they're in Paris," Mme. Raberin cooed to Shindigger as guests feasted on Bilboquet's agreeable French cuisine. "They forget they are in New York. What is really amazing is the welcome we have received from America for our brand. They thank us for being here, rather than us thanking them. Only in New York!" 
M. Raberin, holding the couple's Lalique trophy, nodded in agreement. It comes as little surprise that the bien connus have taken a liking to the resto's private back entrance, where their waiting SUVs can whisk them away. (Ladurée's publicist, the painfully chic Céline Kaplan, refused to dish further celebrity details.)
Shindigger enjoyed another al fresco foray recently at the Central Park Conservancy's annual Taste of Summer benefit, held at Bethesda Terrace, where guests such as Gillian and Sylvester Miniter, Alexandra Lebenthal and Jeremy Diamond, and Yaz and Valentin Hernandez gobbled up plates of gooseberries with tomato and tarragon from Betony and cured sardines with Sicilian capers and lemon confit from Ristorante Morini. Shindigger stuck to the William Grant & Sons' massive "foraging bar," creating our own bespoke cocktails from the colossal selection of herbs, fruit, garnishes and spirits.
Next we went to Governors Island, festooned in flapper fashions, for the June edition of the Jazz Age Lawn Party.
"There is nothing better than a summer day in New York City," began Michael Arenella, who orchestrates the twice-a-year affair with his Dreamland Orchestra. "Especially one with thousands of friends on beautiful Governors Island, in a forgotten world, on a separate island, within our own city."
Between the fantastic tunes and the eternally replenished St-Germain cocktails, Shindigger wholly concurred. "We are still pleasantly surprised each year when the hope becomes a reality, when we see the smiling faces, the dancing, romance and laughter."
Amanda Victoria, national brand ambassador for St-Germain, who oversaw our speakeasy exploits, subscribed to the same mentality. "There's no celebration more full of life than enjoying an aperitif in the sun on a warm summer day with close friends and family," she proclaimed. "Pack a picnic basket with fresh lemons, cold ice, bubbles and St-Germain and get outside and enjoy what I call 'the art of the aperitif.'"
One of Shindigger's favorite seasonal traditions finally kicked off in Central Park on June 16 with the opening of Shakespeare in the Park and The Public Theater's production of Much Ado About Nothing.
"Any night in the park is so much fun," enthused Shindigger pal Jonathan Groff, star of HBO's Looking, at a reception afterward. "But this production in particular was so great, largely in part because of Hamish Linklater and Lily Rabe, who are unbelievable, separately and together."
Of course, it ain't always pretty outdoors. "I remember seeing A Comedy of Errors the night that it rained and all the mics went out, and we stayed and they did it unmic-ed," Mr. Groff recalled. "It feels like church somehow when it's outside. Even if you don't like Shakespeare, just sitting out under the stars and watching people perform is an experience like none other."
Andrew Rannells, another of our HBO acquaintances, who, it was recently announced, will replace Neil Patrick Harris in the multi-Tony-winning production of Hedwig and the Angry Inch, was also in attendance. 
"I love coming here," the actor told us, "because it feels like the start of summer. It's so quintessentially New York. The sun is still out when the show starts, but that moment when it gets dark is magical."
We couldn't agree more.