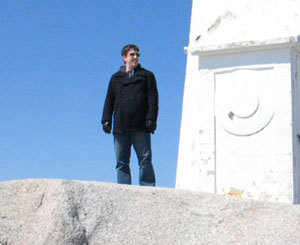 Dashiell Bennett is the new editor of The Atlantic's news site The Wire. The position has been vacant since Gabriel Snyder left in January.
"We looked long and hard for the best person to run The Wire," Atlantic co-presidents James Bennet and Bob Cohn said in an announcement this afternoon.
When Mr. Snyder left, Andrew Golis, formerly The Atlantic's entrepreneur in residence, was promoted to the newly created role of general manager and took charge of the site. Mr. Bennett, along with politics editor Elle Reeve and entertainment editor Joe Reid, led the site's day-to-day editorial coverage.
"In the end, Dash combined the deepest understanding of the core mission of the site with the clearest vision for its possibilities. And while our search was underway, he demonstrated his leadership ability by helping our writers steadily sharpen their work and continue to grow their audience," Mssrs. Bennet and Cohn said.
Mr. Bennett had freelanced for the site since 2011, back when it was still called The Atlantic Wire, and came on as a full-time writer in January 2013. Last September, he was appointed news editor.
"I'm very honored and excited to be given the opportunity to lead The Wire into the next phase of its development," Mr. Bennett said. "We have an extremely talented and energetic group of writers and editors on board, and I'm proud of the site we're building together. We're poised to produce even greater work and reach even more people in the months to come."
The Wire is now looking to fill four positions: news, politics and social media editors and a politics writer.