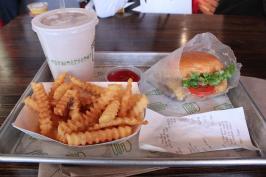 A panoramic photo likely couldn't capture the vastness of the line at Shake Shack today. It stretched around the entire perimeter of Madison Square Park, finally trailing off by the playground, as more than 500 people gathered to help Shake Shack celebrate its 10th anniversary. 
And, course, to get a taste of Chef David Chang's Momofuku Shrimp Stack: A classic Shack beef-blend cheeseburger topped with a smoked and griddled shrimp patty, Momofuku Hozon Sauce, Bibb lettuce, pickled onion, and salted cucumber. We just followed the drool to 23rd Street.
When the Observer arrived, the Shake Shack gang was running down the endless line, high-fiving all of their hungry and hopeful customers. Founder Danny Meyer paused for selfies with his foodie followers. And Chef Chang munched contentedly on his own burger. Everything was as it should be.
It had the feel of a distinctly New York occasion, but people came from all across the U.S. to get a taste of the action.
From Jacksonville, Fla., Liza Groshell and her family planted themselves in line at 10:30 a.m. "I came to give my kids the same opportunity to enjoy Shake Shack. It's their first trip to New York," she said. "Shake Shack is the last stop for our vacation."
For Ms. Groshell and her family, it was just by chance that their city trip landed them in the midst of the Shack's birthday week. But others had planned for it meticulously. Three friends told the Observer about their fool-proof plan for getting both Monday and Tuesday's gourmet burgers while nixing their wait time.
"Today we had a final, so our friend waited for us in line. Yesterday was my turn," said Sara Maysles, a student at the Swedish Institute. Her probably-now best friend Carl Cheng added, "I thought about doing all five days, but it's beginning to take a toll. I think I'm going to come back Thursday though, because I love Daniel Humm."
For those lucky enough to get a bite of what Mr. Meyer called "the pot at the end of the rainbow that is David Chang's burger," it was well worth the wait. "I'm a big seafood fan. It's special," said Lindsey Kang, mid-bite into what we imagine was a quasi-religious experience.
But if you couldn't finagle a way to get that heavenly-sounding burger into your mouth, don't fret. Mr. Meyer told the Observer that these chef-Shack collaborations are just going to make the Shack's own burgers better and better.
"It's kind of like getting on the tennis court with someone who can help bring your game up even further," he said. "And it will, and it has."
Though Mr. Meyer noted that Shake Shack's mission isn't just concerned with food. The restaurant's home base in Madison Square Park was originally conceived as a way to bring people together, after all.

Mr. Meyer concluded, "At the end of the day we realize we did not invent burgers, we did not invent shakes, we did not invent fries. We pinch ourselves every day that the human spirit of wanting to be with other human beings is the most important element of Shake Shack. We know that. We are subsidiary to people."