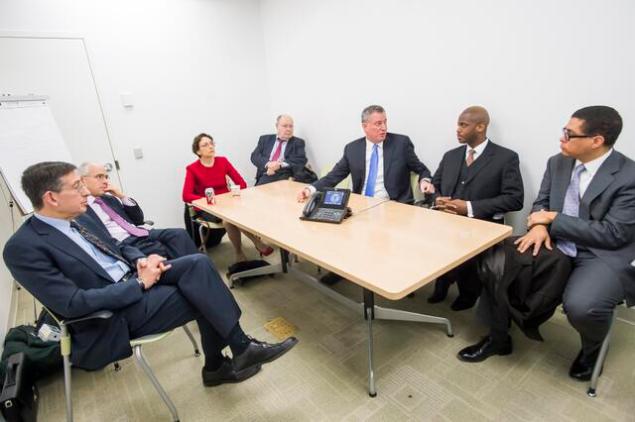 Mayor Bill de Blasio and top Working Families Party brass will conference call with the left-leaning faithful tonight at 6:30, according to an e-mail sent out yesterday afternoon by the liberal group Citizen Action of New York.
The event–which was not listed in Mr. de Blasio's official public schedule for today–will be an opportunity for the mayor and his allies in the upper ranks of the union-backed third party to discuss the deal Mr. de Blasio brokered with Gov. Andrew Cuomo to get the state executive on the WFP ballot line. according to the message sent to CANY supporters.
"Two weeks ago, ​at the Working Families Party convention, ​an exciting new coalition was ​formed to move forward on significant parts of our progressive vision for New York. Citizen Action, the Working Families Party, Mayor de Blasio, Governor Cuomo, and dozens of labor unions ​agreed that now's the time for change," read the e-mail from CANY executive director Karen Scharff. "This Thursday evening at 6:30 pm, you're invited to an exclusive Tele-Town Hall meeting with Mayor de Blasio and leaders of the Working Families Party to learn about the plan and how to get involved."
The message included a link where recipients can enter their personal information and phone number, and told them to expect a ring at 6:30 p.m. It went on to describe the basic facets of the WFP-de Blasio-Cuomo deal–public financing of elections, passage of the Dream Act to grant financial assistance to undocumented immigrant college students, drug law reform, increasing the state minimum wage and allowing municipalities to set their own minimum pay rate and signing the Women's Equality Act into law.
These policy changes depend largely on getting the breakaway Independent Democratic Conference to withdraw from their joint leadership arrangement with State Senate Republicans and return to the party fold–which Mr. Cuomo has also pledged to push for and Mr. de Blasio is actively working towards.
"It's a big vision and we've got our work cut out for us​, but we also have a broader coalition than ever working to get there​," Ms. Scharff's message said. "With your help and involvement, we can get it done."
The 6:30 time slot fits nicely between Mr. de Blasio's announced engagement at the Department of Education's Big Apple Awards at Gracie Mansion at 5:30 pm and his scheduled appearance at the Outward Bound Schools gala at E. 61st Street's Pierre Hotel at 7:30.
Mr. de Blasio's office did not immediately return a request for comment.