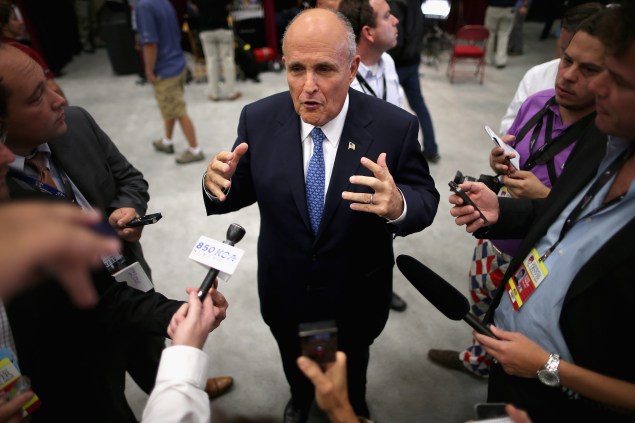 Former Mayor Rudy Giuliani had surprising praise for Mayor Bill de Blasio today, commending him for re-hiring Bill Bratton as police commissioner and declaring that it was too soon in the new administration to begin blaming Mr. de Blasio for an increase in crime.
Months after slamming Mr. de Blasio for his habitual tardiness and for allegedly taking the city in the wrong direction, Mr. Giuliani defended the mayor from claims that his left-leaning approach to crime is responsible for a recent spike in shootings.
"I think it's unfair to Mayor de Blasio to judge him six, seven months into his administration," Mr. Giuliani told the Observer at an event where he endorsed Republican Attorney General contender John Cahill. "Policies that we started after coming into office in 1994, we didn't start seeing the results of until 1996."
The former Republican mayor also praised his once-removed successor for picking Mr. Bratton–who instituted the "broken windows" approach to crime under Mr. Giuliani in the 1990s–to run the police department. Mr. Giuliani and Mr. Bratton clashed during the top cop's first tenure as commissioner.
"Mayor de Blasio and I do not share the same worldview. His is, I'd say, a left worldview, while I'm more of an old conservative–or I shouldn't say 'old,' but a conservative," Mr. Giuliani said. "But one thing I did agree with was Bill Bratton for police commissioner."
Mr. Giuliani did, however, question the mayor's decision not to add 1,000 new police officers to the NYPD.
"If the City Council wanted to give me a thousand more cops, I'd say thank you," Mr. Giuliani said. "I don't know why he would do that, only he can answer that. But he's got a police commissioner who can handle this."