There are rumors about Kelsey Grammer—scandalous, outlandish, larger-than-life tabloid stories, the kind that keep a reporter awake at night. This is a man who stormed off Piers Morgan Tonight, supposedly because they showed a picture of his ex-wife. One comes to an interview on tiptoes, nerves ajangle, like a bomb disposal specialist.
However, the moment we shake hands in a dark, plush living room, there's an immediate sensation of relief. Maybe it's the voice, or the slightly crooked, still-boyish smile. Maybe it's the unthreatening tweed coat and ever-so-slightly pink shirt. In any case, he's surprisingly unguarded and—dare we say it?—nice, decidedly more Frasier than Boss. Watching him admire a stuffed fox, he looks as though he's about to head over to Café Nervosa to discuss symbolism with Niles Crane. I stop worrying about saying anything that will throw him into a fury and wonder for a second if I should ask for help interpreting a dream I've been having.
Mr. Grammer brushes off the comparison, though. "I'm a much more interesting person than Frasier!" he laughs. "I'm probably a little more intelligent. There's more diversity and worldliness [in my life] than Frasier's. He does know more about opera than I do."
| | |
| --- | --- |
| 'The industry is full of presumption about talent and says, "Oh, well, that's what that person does," notes Mr. Grammer. 'So it's your obligation as the funny psychiatry guy to surprise people.' | |
Mr. Grammer played Frasier Crane for 20 years, first on Cheers from 1984 to 1993, then from 1993 to 2004 in the spin-off, Frasier. In that time he garnered four Emmys, two Golden Globes and a worldwide following. 
Back in 1984, though, he may not have seemed the most likely candidate for the part. Now 59, Mr. Grammer was then a 29-year-old college dropout with limited stage and television experience who had grown up surfing in the Virgin Islands. Frasier Crane, on the other hand, was created as a crusty, middle-aged intellectual, an East Coast psychiatrist designed to contrast with Ted Danson's everyman. 
John Lithgow was initially considered for the part, but "I just knew how to play him," Mr. Grammer explains. "I knew who he was. I read the sides [specific lines from the script learned prior to an audition] and thought to myself, 'I have a pair of pants hidden in my closet somewhere that my mother gave me when I was 17.' I never wore them. They were silk-lined, Christian Dior, bright yellow. And I suddenly thought, 'Those are important for this audition.' So I went home and dug them out. I put together a lovely outfit with a black blazer and white shirt, and that's how I got that part."
While the role of Frasier, as a love interest for Diane, was initially intended to last only seven episodes, he was soon embraced by fans and the writers. Mr. Grammer was in 13 episodes his first year, and by the third year, "when somebody offered me something, I said, 'Guys, put me in all of them.'"
When Cheers ended its run in 1993, Mr. Grammer was fully prepared to embrace a new project. Paramount approached him about doing a comedy about a tycoon who had been in a motorcycle accident and ran his empire from his bed. 
"John Pike [the President of Paramount] said he wanted to take me to dinner," recalls Mr. Grammer. "And he sat down with me and said, 'I think a comedy should be funny.'" They decided to do Frasier instead.
The series changed from focusing on Frasier's romantic travails to his relationship with his family. Set in Seattle rather than Boston, David Hyde Pierce played Frasier's brother, Niles, a fellow psychiatrist, and John Mahoney played Frasier's blue-collar, retired cop father.
It was funny, at least to everyone watching. Mr. Grammer, on the other hand, found the familial theme a bittersweet contrast to his own tragedy-filled life. 
***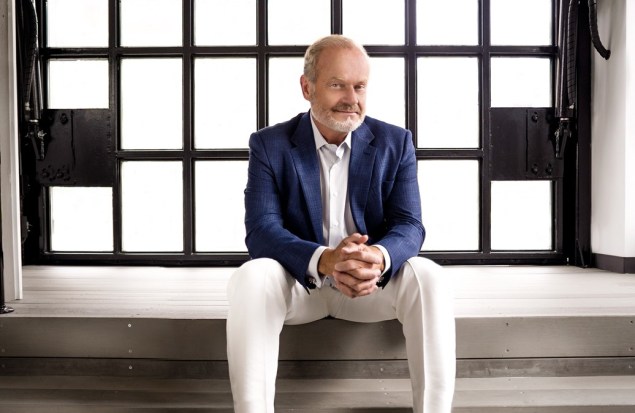 When Mr. Grammer was 13, his father, whom following his parents' divorce he rarely saw, was shot to death outside his home. When he was 20, his younger sister Karen was raped and murdered. Mr. Grammer identified his sister's body. During her killer's parole hearing, he talked about his grief. "She was so smart and good and decent," he said. "She wrote poetry … We could laugh for hours together … I was supposed to protect her—I could not. It very nearly destroyed me … " Five years later, two of his half-brothers died in a scuba accident. 
He was close to his mother, who passed away five years ago. "I had a great relationship with my mother, and she came almost every night to the show. I miss her." 
These events may have deepened his desire for family. Reflecting on his relationship with the actors on Frasier, Mr. Grammer tears up. "I told David [Hyde Pierce], 'This is my chance.' Because I didn't really know my half brothers—and through David I understood what having a brother was like. And I think we still have that relationship. And through John [Mahoney] I had a great dad." 
Today Mr. Grammer seems happily settled with his off-screen family. He beams when talking about his 22-month-old daughter, Faith, with his wife of three years, Kayte Walsh. She is currently pregnant with their second child. Though she was in Los Angeles at the time of the interview, Mr. Grammer was nostalgic for their days in Manhattan. "Kayte and I fell in love in New York," he says. "We have a place upstate and an apartment down in Chelsea. And it's very nice, but it's small, so we go up to the farm quite a bit."
Mr. Grammer still winces
when talking about Hank, a sitcom described by one critic as 'moronic
and ghastly.'

 
It sounds idyllic, but regular readers of celebrity gossip magazines will know that Mr. Grammer's current happiness wasn't easily achieved. When they met, Ms. Walsh was a flight attendant on Mr. Grammer's flight to London. Mr. Grammer was still married to Real Housewives of Beverly Hills personality, Camille Grammer. A bitter divorce ensued, complete with Ms. Grammer claiming that the difference between her new boyfriend and husband was "about eight inches."
Mr. Grammer explains, "I was in a marriage at the time I met Kayte, but I knew that marriage was in trouble. And I think everybody else knew, too. So I was ready for a new life, and had opened my mind to the idea that I could have one. And pretty much about six months before I met Kayte I'd determined that a new life was what I wanted. When I met her, I just thought, 'Wow, there it is.'"
The challenge of creating a happy new home may not have been as taxing as finding the right roles after Frasier's end in 2004. "The industry is full of presumption about talent and says, 'Oh, well, that's what that person does,'" notes Mr. Grammer. "So it's your obligation as the funny psychiatry guy to surprise people." 
He embarked on a sitcom called Hank in 2009 in which he played a stuffy former CEO who, after losing his job, went to live with his wife's small-town family. It was spectacularly un-funny. ("A moronic and ghastly effort that suffocates under the cloying and annoying blanket of a laugh track so disturbing it should be destroyed," said the San Francisco Chronicle.)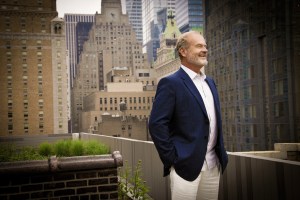 Mr. Grammer still winces when talking about it.
"It was one of those things I just couldn't make work. Material-wise, I think the guy who was writing the show, Tucker Cawley, was lovely. He came from Everybody Loves Raymond and was very good for that show. But the kind of language he would write just didn't fit in my mouth. I wasn't Ray." 
And on some level, America may have cringed to see someone who for 20 years was portrayed as having all the answers, bumbling about trying to get a job in a mall. 
His transformation into villain roles has proven more successful, perhaps, because people agree that Kelsey Grammer seems intelligent. He notes that the beginning of Boss, the Starz television show where he played a Chicago mayor losing his sanity, was carefully orchestrated. The camera zoomed in on his face. (The posters, you might remember, showed him snarling in a decidedly un-Frasierly manner.) By the time the camera pulled away, the character of Tom Kane was born.
Part of the success of the critically-acclaimed show may have stemmed from Mr. Grammer's passion for politics. An out-of-the-closet Republican, he attended George W. Bush's inauguration in 2001 and endorsed Rudy Giuliani's campaign in 2007. He is also friends with John McCain. In 2012 he claimed that being a Republican stopped him from getting an Emmy for his work on Boss. All his Emmys (including one for a voice-over on The Simpsons) did come before he announced his political affiliation in 2006.
When asked if he still thinks Hollywood is that true blue he laughs and replies, "I'm not sure. It was kind of a fun thing to say. My press agent has a wonderful way of doing this. He looks at me, and he says, 'See those guys over there? You'll never work with them.'" 
And who are those guys over there, flinging away money? "Steven Spielberg I would love to work with," says Grammer, "but he's one of the guys who Stan says, 'Well, you won't work with him.'" 
His politics certainly haven't kept him from working with Michael Bay, whose upcoming Transformers 4 Mr. Grammer has a major role in.
"I love Michael Bay movies," the actor says. "Great directors have signatures—John Huston, Clint Eastwood, Steven Spielberg—and he is a great filmmaker."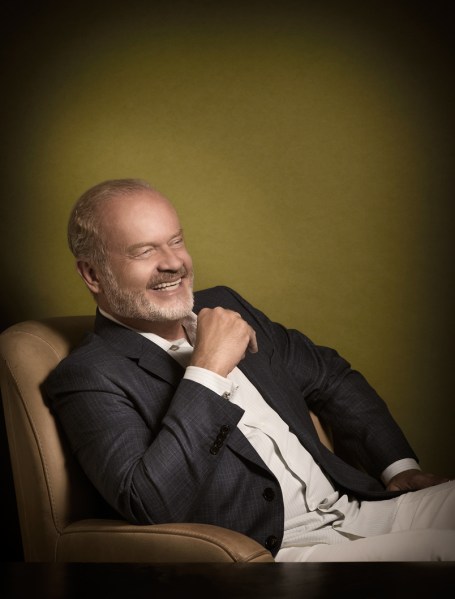 On the big screen, Mr. Grammer has also played the role of X-Men's Beast and the ex-mercenary named Bonaparte in the forthcoming Expendables 3. And there is a new film, Breaking the Bank, in which he plays a bumbling bank CEO. The synopsis of the film notes, "He needs to be like a wolf of Wall Street; unfortunately, Charles is more the Labrador of Liverpool Street." On television, Mr. Grammer is working on Partners, an odd-couple comedy opposite Martin Lawrence.
His favorite project post-Frasier may have been his performance on Broadway in La Cage aux Folles. Though it's not necessarily what you would expect from a friend of John McCain, Mr. Grammer's eyes light up when he talks about the musical. "I'm still trying to negotiate a film out of it, and go to Saint Tropez and just do the musical, because that's never been done," Mr. Grammer confides. "People think the Robin Williams/Nathan Lane movie is the musical. It's not, it's not even the script." 
Perhaps this is the project that will get Steven Spielberg on the phone. But until then, if people on the street still see him as a tweedy psychiatrist with a radio show, well, Mr. Grammer is alright with that. 
"The show is never off the air. It's forever. So to be unpleasant about it would just be ungentlemanly. People come up to you because they are genuinely happy to see you, and to give anything else back would be unacceptable. I embrace them always and say, 'Thank you, it was a wonderful time in my life.' And people who come up to me usually have a personal story to relate about something that happened on the show that helped them through something or he was in the hospital for six months and Frasier made them laugh. To hear that—what a blessed way to live a life. I have been extremely blessed and honored to play Frasier. It was a highlight of my life."
Then he pauses for a moment. 
"But is it a problem in terms of casting? Yeah, probably. I'm working through it."