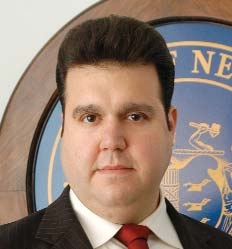 On the same night he bruised U.S. Rep. Donald Payne (D-10) in their home South Ward, Mayor-elect Ras Baraka walked into his first political loss last night since beating Shavar Jeffries.
The loss occurred in the East Ward, where Angelo Di Federico retained his chairmanship of the East Ward Democratic Committee, withstanding a well-financed challenge by Deputy Police Chief Anthony Campos (pictured).
The total vote count was 33-13.
Di Federico was a Jeffries backer in the May 13th nonpartisan election, and Baraka, with the help of state Sen. Dick Codey (D-27), looked to mop up behind Campos last night.
Baraka did not have the same success in the East, however, that he had last night in his home South.
Baraka's allies ousted veteran Payne-friendly South Ward Democratic Chairman Lee Fisher, then executed a coup, eschewing Payne's selections for deputy positions in the South, supplanting them with Baraka people and weakening the congressman at his base.