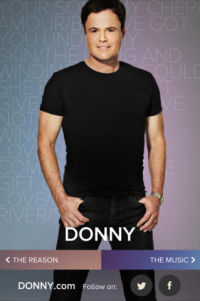 Once upon a time, famous people could verify their celeb status by appearing on the Ed Sullivan Show or Soul Train. But now that we've entered the Digital Age, it seems that everyone who's anyone is clamoring to come out with their own terrible app.
Next in line to drink the app creation Kool-Aid is everyone's fave entertainer, Donny Osmond. The singer's recently released app promotes his upcoming album, The Soundtrack of My Life, coming out later this year (side note: it's his 60th album). According to its description on the iTunes store,
"This is an interactive social media application that gives followers a sneak peek at the songs set for Donny Osmond's latest album which also happens to be his 60th album — 'The Soundtrack Of My Life.' The album has a projected release date for Fall 2014; however, users of this app will receive regular updates, prior to the release of the album, to hear audio clips, along with personal stories from Donny, explaining the significance of each song from his 50-year career in entertainment."
Gee, sounds like a blast. We can't wait to show off our new "social media application" to all of our friends.
Maybe we're wrong — maybe Mr. Osmond's app will be the most-downloaded of 2014 — but our best guess is that it'll join the graveyard containing Jay-Z's ill-fated Magna Carta Holy Grail app, Lady Gaga's bizarre reverse Warholian/interactive jewel case ARTPOP thingy, and Al Roker's crap-tastic iPhone game. The stars seem to have felt compelled to create these apps, and yet the apps didn't go anywhere because, let's face it, these people are busy singers, actors and TV personalities who don't have time to be tech entrepreneurs, as well.
And we're okay with that! Seriously — there's no pressure. If you're an entertainer, no one's expecting you to churn out tech products.
It won't even make millennials like you more. Truth be told, all they care about is Snapchat and Vine.
[h/t USA Today]