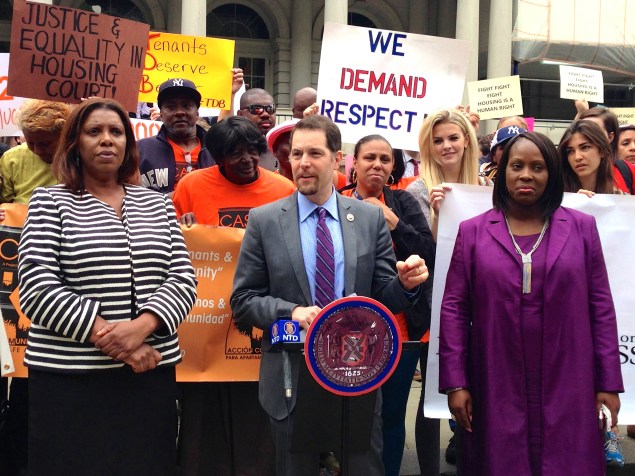 A coalition of elected officials and activists rallied on the steps of City Hall around a series of bills that would provide legal counsel to low-income tenants facing eviction.
"We have come together today with one voice to call for fairness in housing court, which today gives us no measure of equal justice in tenant-landlord disputes." said Councilman Mark Levine, who co-authored the bill with Councilwoman Vanessa Gibson.
"By no definition are tenants getting equal justice in housing court, where only 10 percent of tenants have legal representation and 90 percent of landlords have attorneys." Mr. Levine, a Manhattan lawmaker, added. "The result, predictably, has a terrible human cost in New York City."
According to advocates, nearly 30,000 families were evicted in New York City last year. The figure is steadily rising, up more than 20 percent in the past decade. Two-thirds of evictees have annual incomes of $25,000 or less and two-thirds live with children under 18 years of age, advocates say.
Ms. Gibson, a Bronx lawmaker, said the bill will "arm our tenants with knowledge, with power and with education. Because often times you are at a disadvantage when you walk through those doors."
Manhattan Borough President Gale Brewer and Councilwoman Tish James spoke about the importance of bills as well.
"You cannot do preservation of affordable housing without legal representation" Ms. Brewer said, as she presented statistics. "Since 1994, the city has lost 98,000 units of rent-regulated housing" she added.
Ms. James even quoted the Bible in her support of the bills.
"This is Gideon's army and Gideon's army is marching straight into housing court. We have attorneys by our side and all that we are asking for is justice, simple, simple justice," she said.