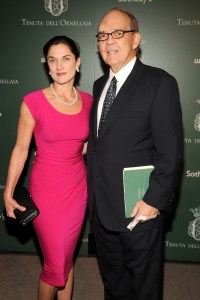 The architectural firm of Beyer Blinder Belle has been here—oh, and Pollock, Picasso and de Kooning, too. The latter names, of course, represent the more alluring of those trios, but the former will be more useful to the very regal sounding buyers of a $12.975 million duplex co-op at 19 East 72nd Street. It seems rather unlikely, at any rate, that the art collector and California Cabernet kingpin Donald Bryant Jr. will be leaving the estimable collection of modern art with which he decorated his place to new owners Catherine R. and Arthur T. Williams III. That recent renovation, on the other hand, will prove difficult to take along.
The "classic prewar details" and "dramatic environment for living and entertaining," of the listing held by Cathy Franklin and Alexis Bodenheimer at Brown Harris Stevens will be staying, too. (But is it drama, really, that we want from our day-to-day lives? Perhaps. This is Real Housewives territory, after all.)
And who, we ask, doesn't enjoy a good "sweeping" staircase off a "magnificent" entry gallery? Who would frown at a "palatial" living room and "sophisticated" modern updates? There are dark, herringbone floors here, whose multicolored patterns recall certain very tasteful cheeseboards. There's a semi-private landing off the elevator, appliances by Sub-Zero—and others by companies that we're quite sure non-chefs have never heard of—and everybody's favorite: Carrara marble!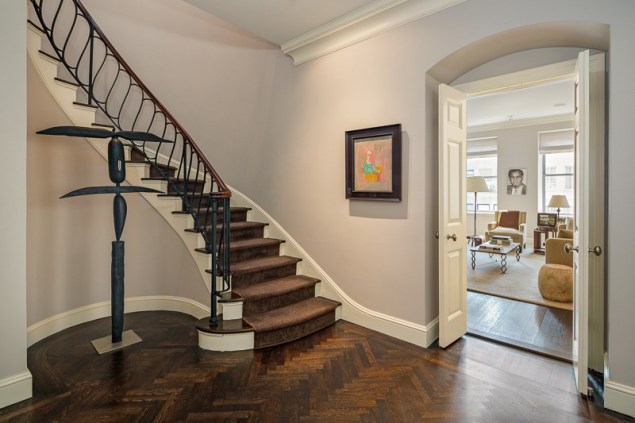 A one-time trustee of the Museum of Modern Art, Mr. Bryant found himself embroiled in legal unpleasantness last year when his business partner sued him over his alleged reluctance to honor an agreement ensuring that several works by Jasper Johns valued at $15 to $25 million that the two bought together would end up ultimately at MOMA. But even if those suggestions were valid, we find ourselves feeling mildly sympathetic toward Mr. Bryant. Having purchased his co-op for $10 million in 2006, he subsequently spent some $4 million and two years on that renovation by Beyer Blinder Belle, which, after all, was the firm behind the Grand Central Station overhaul.
According to our back-of-envelope calculations, that leaves him out about a million bucks. Perhaps his buying buddy, too, will find pity in his heart. Though it seems unlikely.