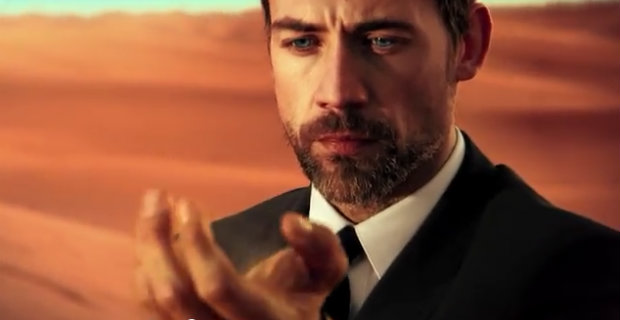 Alright, hypothetical situation time.
You are standing at a crowded bus stop around noon, waiting for your ride. Suddenly a massive, black SUV pulls up in front of you and three people hop out. One of them asks where you are going. His shirt says Tyrant. He asks if you want a ride to your destination in the giant, black SUV. He cajoles you with free things. Your parents told you that's how strangers would try and persuade you, but you're confused and the Tyrant guy is making all these claims that he works for a "big TV network." As the SUV doors ominously close behind you, you wonder if you'll ever see your family again.
Welcome to the Upgrade Army, everybody! Viral marketing at its best/most threatening.
What is the Upgrade Army? It's FX's latest campaign to spread the word about Tyrant, the network's latest drama premiering June 24. The much-hyped series from showrunner Howard Gordon (who brought us the torture-happy duo 24 and Homeland) centers around Bassam "Barry" Al-Fayeed, a Middle-Eastern native returning to his homeland for the first time in 20 years for a wedding. A key selling point of the show is Al-Fayeed's exorbitantly rich family and their extravagant lifestyle. It's also about dictatorships, hence the title. Poppin' bottles, crushing the uprising, imprisoning dissenters. So the word "Army" has a couple meanings here, and not all of them are positive associations.
Enter FX's PR team, and the "Random Acts of Upgrade" campaign, which focuses on only one of the above aspects. (Though from the way we were grabbed off the street, it was hard to tell which one.) From the campaign's release: "FX is deploying an army of 'upgraders' to the streets of New York City to elevate experiences for unsuspecting New Yorkers. From June 18 to June 24, consumers can enjoy a taste of the luxurious lifestyles of Tyrant." I spent a few hours with the 'upgraders,' who dubbed themselves the Upgrade Army. Their slogan, "Today you live like royalty." I guess the "Tomorrow, you die like infidel dogs!" part was just implied.
Honestly, it wasn't nearly as horrifyingly terrorist-y as I just made it sound.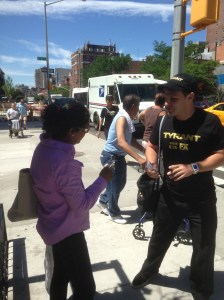 We started off at the aforementioned bus stop on 15th Street, where about 20 people were milling about. I watched with the mindset I described before…that taking civilians into a random SUV is generally a bad move. My initial image of this campaign involved a white van, tires squealing and possibly water-boarding.
And yes, it started off as genuine confusion. A guy comes up you and says, "Hey I'm from FX. Here's a free Metro Card and make sure to watch Tyrant" you really aren't going to know how to react. Mostly because FX sounds like a shadowy government agency for anyone without cable. But eventually people flocked to this thing. I assume because A) It's New York and people are used to stop-and-frisk and B) hey, free stuff.
Once the crowd cleared, the Ugraders asked one woman if she wanted a ride to her destination. We followed behind the SUV to Bellevue Hospital (ed. note: what is the portmanteau of "yikes" and "womp womp"?) where the Upgrade Army dropped the woman off. Full disclosure: Based solely on her face, I don't think the woman knew what was happening or why. I'm about 95% sure she still doesn't know what happened. I can't even imagine what she's telling her family about that random SUV right now.
But let me tell you, she just looked so damn grateful for the lift that I couldn't even continue to be cynical about it.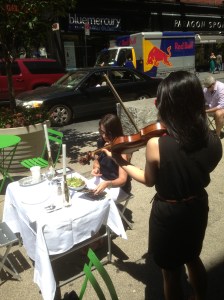 The next stop was Union Square Park for the "Fine Dining Experience" portion of the campaign. What that entailed was upgrading park-goers' lunch to a high-scale event, complete with table, candles and a their own personal violinists. A woman named Kelly, eating an inconspicuous burrito bowl, was one person selected for the fine-dining experience.
"Honestly I thought the guacamole was going to be the highlight of my day," she told me. "Turns out, this is the highlight of my day."
(Side note: As I was talking to Kelly at the fancy table, violinist playing in the background, a random passerby asked the FX team if this was a marriage proposal. No, no, random passerby. Unless Kelly was interested? Okay, no, it's not.)
Over at another table, a second violinist serenaded a couple. A couple blocks away at the Flatiron Green Cafe, the Upgrade Army set up yet another fine dining experience in the shade. Later on that night, they would complete the day's tasks by offering free champagne service to restaurant goers and leaving select hotel rooms with gourmet chocolate truffles as turn-down service.
At the end of my time amongst the ranks of the Upgrade Army, the campaign offered me a legit bottle of Dom Pérignon champagne because I would have to miss out on the champagne portion of the day. Half inspired by the "Random Acts of Upgrade," half inspired by #journalismethics, I gave it to the driver that got me back to my office.
Today, that guy lives like royalty.