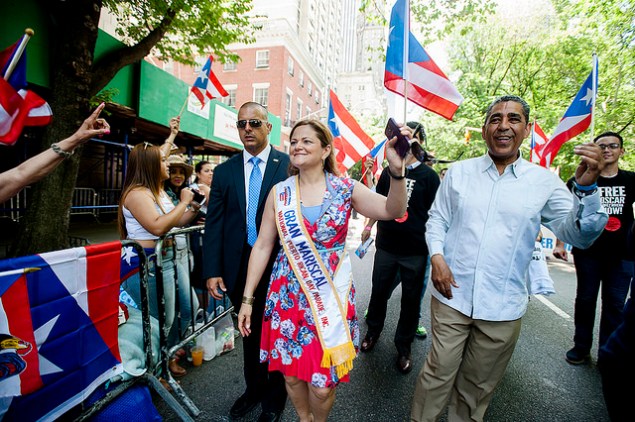 State Senator Adriano Espaillat, Council Speaker Melissa Mark-Viverito and roughly two dozen supporters took to the streets of East Harlem to boost Mr. Espaillat's bid to unseat Congressman Charlie Rangel, with two days left before Tuesday's Democratic primary.
A poster-plastered bus blasting salsa and meringue music rode alongside the walking campaign crew, while one marcher on the sidewalk barked English and Spanish slogans through a megaphone.
"Espaillat que vamos!" the marcher shouted, with the rest of the team sometimes joining in. "Yes we can!"
With the two officials leading the way, the group started at the corner of E. 116th Street and Park Avenue, then looped around and headed down Lexington Avenue– passing nail salons, barbershops, clothing stores, housing projects, Mexican restaurants, bodegas, Chinese take-out joints and fenced lots fringed with razor wire.
Every so often the pair popped into a manicurist or stylist's shop, shook hands and gave literature to the customers. The older patrons smiled and greeted the politicians with enthusiasm, while those under 40 sat looking bored or bewildered.
"I need one, I need one, eso, eso!" Mr. Espaillat told a man getting a trim.
The pair shook hands and handed literature to pedestrians as they went, then cut east on E. 106th Street–passing the New Democratic Club, with its storefronts filled with signs for Mr. Rangel, and grinning members leaning out of the doorway smoking cigarettes.
At 108th Street and Third Avenue, the crew detoured into Poor Richard's Playground, walking toward a group of men drinking beer and wearing t-shirts that read "El Barrio Old-Timers." The group raised their cups and pumped their fists as the campaigners approached.
Mr. Espaillat and Ms. Mark-Viverito stopped and spoke with the men, who invited them to a party on July 13.
One of the men, named Rudy Marrero, complained to Mr. Espaillat of "knocking over black Harlem." Mr. Espaillat smiled and nodded, and the campaign caravan departed.
When asked to clarify his comments, Mr. Marrero claimed that Mr. Rangel did not serve minority voters.
"We need a change. As a politician, you can't just support one ethnicity," Mr. Marrero said. "Why does south of 96th Street get all the benefits?"
But Mr. Marrero was skeptical about what Mr. Espaillat would do if elected.
"Once they get into office, it doesn't change," Mr. Marrero said.
As the group began to cut toward First Avenue on E. 112th Street, Mr. Espaillat told reporters he was asking for the federal Department of Justice to oversee the election to ensure nothing prevented voters from casting their ballots. The state senator argued such oversight would have been par the course prior to last year's Supreme Court decision striking down parts of the Voting Rights Act of 1964.
"We're asking for them to take a look at it," Mr. Espaillat said. "Like it was when Manhattan was a protected borough, before the diluting of the Voting Rights Act."
Leading the group down the block, Mr. Espaillat conferred about numbers under his breath with Ms. Mark-Viverito.
"We got about 7,000 votes," the candidate said. "I'm sure I can do it."
Not everyone in the neighborhood was receptive, however.
"No Español," a young black woman walking down the street said rudely as Mr. Espaillat and Ms. Mark-Viverito approached.
At the corner of 112th Street and First Avenue, the campaigners waved signs while waiting to cross the street.
"We need a change!" a cabbie shouted out his window as he drove past.
"Yes, yes we do. I agree," a surprised Ms. Mark-Viverito called back.
On the other side of the street, the train concluded its trip with a jaunt through Jefferson Park. The air full of charcoal smoke, Mr. Espaillat and Ms. Mark Viverito chatted with families around barbecue grills, smiled at babies and took photos with a pair of twin girls celebrating their birthday.
A 62-year-old constituent named Rosita Ortiz told Mr. Espaillat she hoped he would defeat the 84-year-old Mr. Rangel.
"It's time for him to go to Miami, to the beaches," she said.