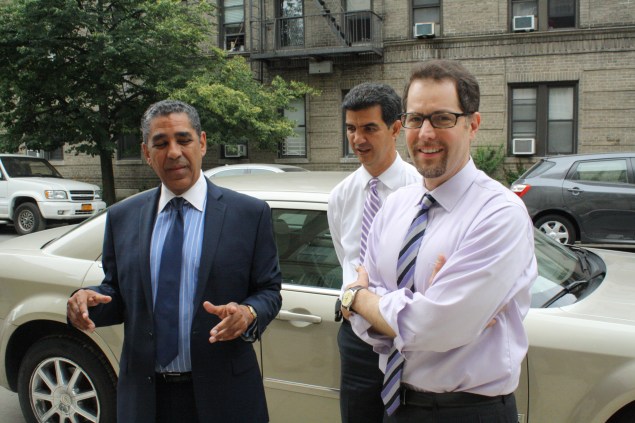 State Senator Adriano Espaillat held court in a dark blue suit, two of his top surrogates hovering by. It was just past midday in Hudson Heights, a section of upper Manhattan, and Election Day was evolving how the insurgent had hoped.
"I think we're going to over-perform again here. I think we're going to do much better in East Harlem if not take East Harlem and I think that we're going to bump a little bit of the numbers in the Bronx as well," Mr. Espaillat told the Observer today outside PS 187.
Turnout, Mr. Espaillat said, would benefit him.
"My understanding from the numbers that I got is that my immediate base has done very well, above perhaps the other neighborhoods and so we're optimistic about that," he said.
Mr. Espaillat was confident that his game plan, laid out at the launch of this acrimonious campaign for the 13th Congressional District, would succeed: add votes in the heavily Latino East Harlem, where he performed disastrously two years ago, build on a slim victory in the Bronx and pull out white, affluent voters displeased with Congressman Charlie Rangel, a Harlem lawmaker since 1971. East Harlem elected officials are now behind Mr. Espaillat and so is the Bronx Democratic machine.
Hudson Heights, a whiter section of Washington Heights just beyond the Dominican-American base that has fueled Mr. Espaillat's rise, may hold another crucial bloc for the senator. Councilmen Mark Levine and Ydanis Rodriguez, two of Mr. Espaillat's close allies and representatives of the area, came with the senator to the school and polling site to greet children as they trickled out and, more importantly for the campaign, ensure the high turnout site produced its share of Espaillat support.
Mr. Levine, a freshman lawmaker, told reporters that the polling site could produce 1,000 votes in what is expected to be a very low turnout primary. While he gabbed with reporters, Mr. Rodriguez conferred with an Espaillat campaign aide and barked into his cell phone in Spanish.
Mr. Levine said that a 2012 contender now in Mr. Rangel's corner, Clyde Williams, aggressively targeted the whiter portions of upper Manhattan where now Mr. Espaillat is looking to pick up votes. Pastor Mike Walrond, another African-American contender, appeared to be taking a page out of Mr. Williams' playbook today: Walrond volunteers milled on the corners of Cabrini Boulevard and Fort Washington Avenue, looking to rope in voters.
Never a celebrity in political circles–unlike Mr. Rangel–Mr. Espaillat appeared to delight in press attention during the final days of this race for the upper Manhattan and Bronx-based seat. Though his campaign had blasted out an alert earlier today about "unexpected voting issues," Mr. Espaillat claimed that any irregularities were small, isolated incidents–a few people not finding their names on voting rolls–and he spent a large chunk of his time outside the school schmoozing with reporters about the contest.
"Every single vote matters," he said. "If you don't think so, why don't you ask Al Gore?"