"If you do something that is decidedly and determinedly cool or hip, it's probably not very hip."  
According to hotelier Sean MacPherson, the slow burn is all. This week, the 49-year-old Californian opened the Ludlow hotel on the Lower East Side, the sixth and largest in his growing empire of soigné, Downtown lodgings and restaurants.
At 184 rooms, the Ludlow is almost 50 percent larger than the nearby Bowery Hotel, the breakout East Village success opened by Mr. MacPherson in 2007. The Ludlow joins a hospitality portfolio that includes the Waverly Inn, the Park restaurant in Chelsea, the Maritime, the Jane and Marlton hotels on the lower west side and the Crow's Nest in Montauk. 
Together, Mr. MacPherson's properties have defined Downtown cool for 14 years thanks to a canny grasp on timing. After the upward movement of development on the Lower East Side in the late '80s, things sort of stalled. First, Rudy Giuliani stopped dancing, then Michael Bloomberg raised the rent and banned smoking. Mr. MacPherson was laying the tables just as Lower Manhattan developed its taste for artisanal gimlets. And as the glitterati and the fashion set took note, he pulled off the minor miracle of making hotel restaurants cool again. Best of all, the punters had to go outside to smoke, guaranteeing attractive set dressing outside MacPherson hotel doors, like a regular late-night delivery of Barneys mannequins.
Yet for all the glitz of the clientele, Mr. MacPherson has built his reputation on a slightly old-fashioned design aesthetic that emphasizes maker-details like casement windows, marble mosaic floors and turned-wood bed frames. ("Think Trustafarian meets Miss Havisham," the hotel's own press notes remark of the oak-paneled Ludlow lobby, with its "distressed limestone fireplace.")
"I never want to do something that smacks of being hip per se, and there's something nice about real things, real materials, real comfort and all that type of stuff," says Mr. MacPherson, sitting in a brand new corner room on the 16th floor of the Ludlow to meet with the Observer. "I think that's ultimately some kind of luxury."
"Sean has a way of combining eclectic and disparate elements like a film production designer," the acclaimed Italian video artist Marco Brambilla, who has been a friend for 20 years, tells the Observer. "He creates a place that only previously existed in his imagination yet taps into a familiar collective consciousness."
Mr. MacPherson is also not above putting his friends to work.
"He is extremely hands-on and detail-oriented when it comes to design," says Mr. Brambilla. "I remember him and I moving furniture in the Bowery lobby on a Sunday afternoon before the hotel opened. He had just driven back from a furniture fair upstate and personally picked up the pieces he wanted for the space. There aren't many people running an organization with over 300 employees and five hotels who would go to those lengths."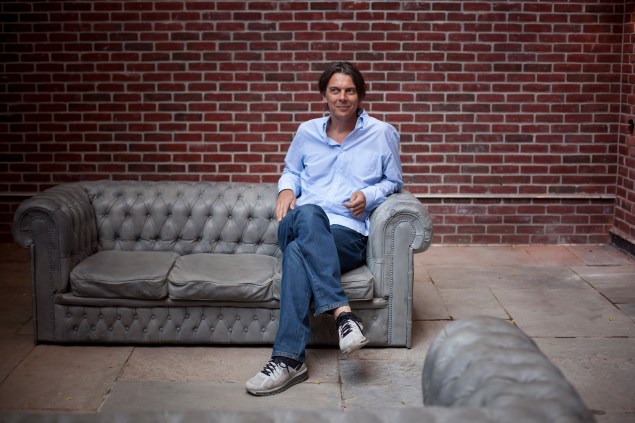 ***
In person, Mr. MacPherson exudes calm, almost to the point of withdrawal. A swoop of boy-bandish brown hair invites comparison to Peter Gregory, the introverted genius of HBO's tech parody, Silicon Valley. And there is just a whiff of surfer mysticism.
His mother, Janet MacPherson, was a champion surfer in New Zealand, where he was born. His father, Tim Murdoch, appeared in the classic surf film The Endless Summer. While Mr. MacPherson himself favors a short board when riding in Montauk, there was more to his upbringing than tasty waves and a cool buzz. "I studied philosophy and business," confesses the graduate of the University of Southern California. "But my mum was paying my way through college, and she was like, 'Philosophers drive taxis. Do something more practical.'" 
Inexplicably, that advice prompted him to get involved with L.A. nightlife.
"I did some hip-hop clubs in the '80s," he recalls. "I did a little bar, and that really worked; I did a restaurant that was quite successful, and it just kind of continued to snowball."
Twenty-five years later, Mr. MacPherson still owns, in whole or part, eight bars in that city. But nettled by familiar Angelino complaints—the traffic, the one-industry town—he set his eyes on New York, opening the Park with partner Eric Goode in 2000.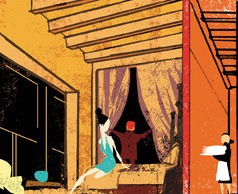 Shortly afterward, the building that would be the Maritime Hotel became available. Sept. 11 almost derailed the deal. But Mr. MacPherson and his partners stayed in contract for the property, even as its value plummeted and development everywhere else downtown ground to a halt.
"By the time we finished it, it was kind of the only hotel that came online," he recalls. "So it got a lot of attention and a lot of press interest. Timing actually worked for us quite well in the end, but it was quite scary in the moment."
Mr. MacPherson's own profile in New York was growing with the success of his business. In 2004, he caused a ripple in the fashion world by bringing then-girlfriend Daryl Hannah to a memorial service for Amy Spindler, the popular 40-year-old style editor of The New York Times Magazine who succumbed to cancer. Even in a room with Karl Lagerfeld, Anna Wintour, Diane von Furstenberg, Donna Karan and Helmut Lang, that turned heads.
Mr. MacPherson has also been romantically linked to the actress Gina Gershon. But this Memorial Day weekend marked the third anniversary of his marriage to Rachelle Hruska, 31, a striking blond Web entrepreneur. She is a founder of the social website Guest of a Guest, and they have two children, ages 2-and-a-half and 6 months.
"We got married out at Montauk, at Peter Beard's house, which was quite nice," says Mr. MacPherson. The math would suggest the couple made it official shortly after discovering they were pregnant.
"Yeah, you can figure that out," he says laughing. "We set out to kind of have children, get married. It happened quite quickly; it was just quite nice."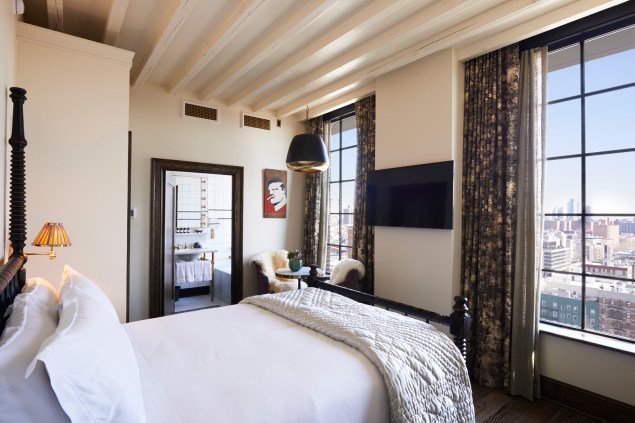 ***
Mr. Beard's wife, Nejma, was among the guests at last Wednesday's pre-opening dinner for the Ludlow, held in the raw space of its new restaurant, Dirty French. Guests milled for cocktails under exposed beams, as fringes of insulation fluttered from the maws of open ductwork. The white paint smelled fresh. 
Manager Bruno Vergeynst, a compact  Belgian who is a veteran of Andre Balazs's empire, darted around the edges of the group in a black suit. He says the hotel would have its first guests Sunday night, two days before the previously announced opening of June 3. He was relieved the property received no damage from a recent water main break, which flooded the basement of their near neighbor, Katz's deli.
The dinner was also a relaunch for Ms. Hruska's Guest of a Guest. Attendees included Downtown boldface names like designer Cynthia Rowley, Vito Schnabel and Mr. MacPherson's particular friend, the literary agent Luke Janklow.
"Sean just gets it," Mr. Janklow told the Observer earlier, via email. "Sean is voraciously curious, and he loves when things are right. I always joke that he, Serge Becker and I are super-gay straight guys when it comes to matters of design. And largely, he makes places he himself wants to hang out at. He loves the details, lighting, sight lines, music. Importantly, he loves people, so creating places where folks can live and drink deeply of life and connect is his art. When a complex social machine like a hotel sings, it is a great soulful satisfaction to him. He really cares about it and is very competitive; he wants his joints to be the swingingest."
The elephant in the beautifully designed room is what's happening to the neighborhood outside. Even as the Ludlow jokes about its own "Trustafarian" aesthetic, new developments are still accused of taking the Lower East Side away from traditional residents. The Olsen twins turned the Bowery Hotel, when it opened, into a celebrity dorm. Will the same thing happen at the Ludlow?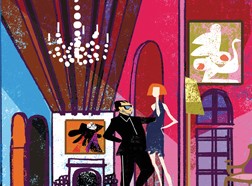 Probably. When all the facts so far are revisited, the outlook for the star content of the Ludlow looks high, and we are not, at this point, discussing Michelins. In the past few weeks alone, the Marlton Hotel has become New York's No. 1 summer hot spot for the in-crowd; get in early or go home is the rule. Basic math prevents any more people cramming in there, so naturally, another MacPherson hangout a few blocks away is going to be appealing. 
The hotelier is characteristically laid-back on the point; there are no plans for lavish opening parties. Instead, cleverly welcoming MacPherson tactics will go to work.
"Ludlow is about to start its soft opening. We plan to keep the prices low while we finish the hotel and open the restaurant. The Ludlow and its prices are meant to be accessible," added the hotelier. It is a bold but shrewd move to attract the kind of truly cool folk who look fabulous at the back tables but maybe share a half bottle of red wine for the entire night. No matter if their bills don't reach oligarch levels, their presence guarantees the atmosphere. 
"I always like the mix of all these worlds, a café society of high and low," explains Mr. MacPherson, whose aim for the Ludlow is for it to build its own scene in a similar way to the other hotels in his group. Each place occupies a unique spot in its own neighborhood.
"The Bowery serves breakfast, lunch and dinner; we have quite a thriving restaurant and lobby scene," he says. "There's a lot of people  living in the neighborhood who use it to have coffee and meetings all day long, and they very much see it through the prism of it being a perfect kind of canteen for the neighborhood."
It's a lovely vision of providing a service for the locals and accepting whatever fashionability might come along with it. This is the bounty of karma, like leaving a dish of cool water out for the neighborhood dogs in summer only to find it has attracted Cara Delevingne.
"Of course, we end up with some high-profile clientele, and that's part and parcel of what we do," Mr. MacPherson comments, with his unflappable, beachy serenity. "But it's definitely not the core of what we do. It's all part of it, and I think a place is more powerful if it does all of those things."