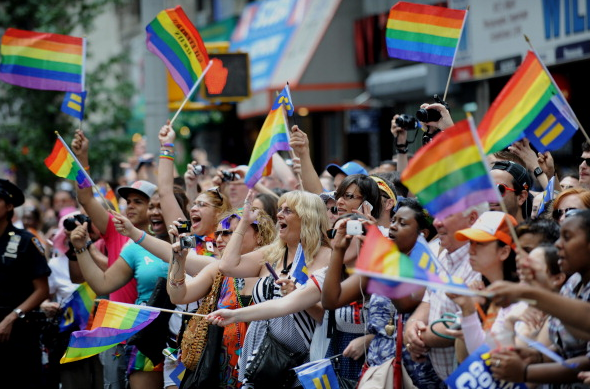 For the first time since expanding to New York in 2008, Facebook will have a contingent in the city's famed Pride March this Sunday.
"There will be 100 or 150 employees, as well as interns, family and friends joining us," Facebook engineering manager Matt Bush told Betabeat. "We all plan on walking… We hope everyone dresses in really festive outfits."
Though they've participated in Pride marches in other cities, like San Francisco, for years, this is the first time Facebook will march in the NYC parade. The idea was mainly employee-generated, Mr. Bush said.
"I really wanted to see the Facebook office participate, and so did the other employees," he said. "We got support from our headquarters in Menlo Park to coordinate t-shirts, posters and some of the swag we'll be handing out during the parade. It's great to be part of a company that wants to make this happen."
Besides ingratiating themselves to LGBT users, Facebook also hopes that participating in the march will help them forge "a connection with the broader culture of New York City," Mr. Bush explained.
"In the same sense, the Facebook office is really trying to integrate itself into the NYC tech scene," he continued. "The tech scene is growing, and Facebook wants to be part of that… Participating in events around the city is something we've been doing across a lot of different areas."
Getting in on the Pride March is a savvy PR move, of course. But whatever their motives, it's nice for the LGBT community to know the tech giant is on their side.
Facebook's been making a concerted effort recently to be more LGBT-inclusive. In February, thanks to a push from Facebook's LGBT resource group, the site expanded beyond the male-female binary by adding over 50 new gender options for its users.
Once Facebook's Astor Place offices are finally completed in August, Mr. Bush also said he'd like for them to host a meet-up for Out in Tech, a group that brings together LGBT members of New York's tech community.
"This definitely can be seen as a trend," he said.