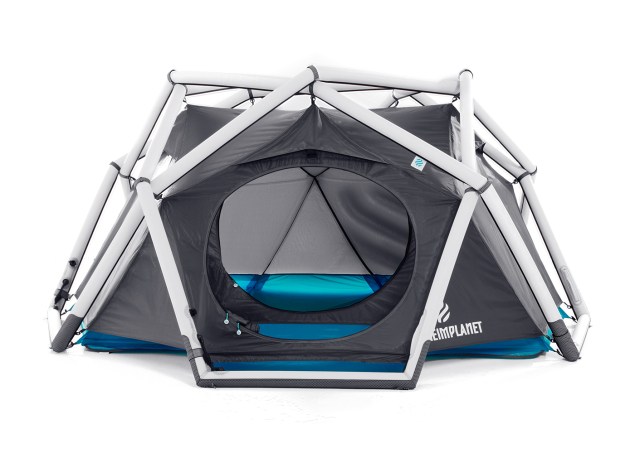 If time is the greatest gift, this inflatable tent by haute camping specialists Heimplanet could be just the place to enjoy it.  
Heimplanet is the brand to wow outdoorsy geeks by name-dropping around the fire pit. Founded by trekking enthusiasts Stefan Clauss and Stefan Schulze Dieckhoff in Germany back in 2008, the company stocks a range of lightweight, high-tech camping equipment suitable for even the most outdoors-challenged. 
The Cave (above) inflates with a simple air pump and comfortably sleeps two to three people. Forget fussing with flimsy poles, pegs and sheets—the Cave comes all in one piece. One minute, it's a familiar, tent-like pile of fabric on the floor; the next, it is a magnificent dome. Once fully inflated, the tent measures roughly 54 square feet in a unique, circular shape. The designers, Messrs. Clauss and Schulze Dieckhoff, took inspiration from the shape of carbon molecules and the lightweight pump needed for inflation is equally smart and simple to use. 
Do not be fooled by the stylish appearance of this tent; the geodesic design means it is a sturdy foe to winds and rain. Special weighting means it cannot blow away unless a hurricane strikes. Even better, when not in use, it can shrink to fit in a backpack. Best of all, the Cave only takes one minute to inflate, which means more time for taking in the great outdoors, a roof terrace or even the den. Time is money after all, making this a potentially beneficial Father's Day gift for all.