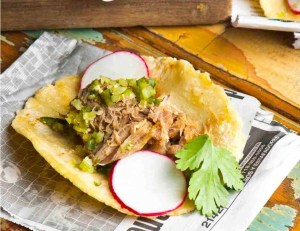 Pop-up beer garden? Count us in.
Union Square Greenmarket will add 12 small plate restaurants and a beer garden to it's usual Friday fare of farmers market vendors as part of a Night Market.
From 4 p.m. to 8 p.m. (we call that happy hour), local beers, hard ciders, and wines, like KelSo's Rhubarb Gose, will be served in a temporary beer garden.
Burgers, barbeque, and pre-made boxes filled with dinner essentials will be on sale for $5 to $20 amidst the fresh produce, meats and cheeses usually for sale at the Greenmarket.
Stop by Toqueville's booth for a $3 cheddar salad with caramelized pears or Palo Santo for $5 mushroom, pork, or mole-braised turkey tacos.
"People sometimes come through the market and want to purchase prepared food, and since we can't provide that on a daily basis, we decided to do it for one night," said GrowNYC market spokesperson, Liz Carollo. "It will let people relax and hang out at the market."