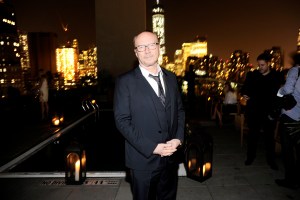 "As I was waiting, naked, ready to shoot the scene, they brought me pizza," Olivia Wilde told the Observer. She was talking about her nude scene in the new Paul Haggis film, Third Person. The worst part was the moment just before having to bare all, she said, but the pizza helped. "It's an Italian thing. They don't serve healthy stuff on set. It's always pizza."
Notably without any of the film's male counterparts, Ms. Wilde joined her female costars Moran Atias and Loan Chabanol at the Cinema Society screening of Mr. Haggis' latest drama. The trio made their way through a barrage of pressing questions like their favorite fragrance or their planned summer getaways. Ms. Wilde scooted home before the credits rolled, back to her newborn, Otis, for whom—whenever she wasn't eating pizza in the nude—she "spent the whole time pumping breast milk" during filming.
Absent from the screening was star James Franco, famed actor, writer, director, artist, etc. Currently starring in Of Mice and Men, Mr. Franco has plenty of conflicting engagements to balance. Doppelgangers abounded at the post-screening celebration, with media personnel swearing they saw him by the bar or maybe back in the corner of the Jimmy at the James Hotel. He never actually made it to the party.
"He doesn't sleep. He'll come to the set and he's great, always prepared, but he'll fall asleep between every take," said Mr. Haggis, the film's writer and director. "If you wonder why he has those bedroom eyes, that's why."
But plenty of partiers came just to see Mr. Haggis, who gradually stripped out of his suit jacket and then vest as the night went on. He made the rounds, popping Captain Morgan poses on the low benches at the rooftop bar as he spoke with friends and colleagues about the film's Inception-like ending.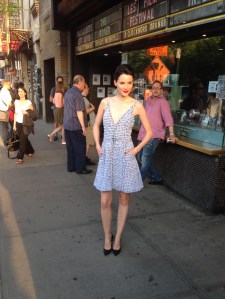 "I got it, and if I got it more people will get it," one blonde told the director.
Attendees carefully traipsed around the edge of the Jimmy's pool, which takes up just under half of the bar's outdoor patio. Drinks and heels caused a few party to teeter over the edge, nearly taking the plunge.
"Oh, can you imagine? Me, in a white dress," one woman exclaimed as a nearby friend caught her just before she could fall in.
But Danielle Brooks, also known as Taystee from "Orange is the New Black," took the obstacle in stride. Peeling off her heels and grabbing a towel from behind a security guard, she sat down along the side of the pool, dipping her feet in. She was sitting alone, flipping through pictures online of her cast mates at the Third Person red carpet from earlier in the evening.
"Shoot, I had wedges on. It was easy to take off my shoes and the water's nice," Ms. Brooks said, flipping her toes up in the pool. "Why not?"