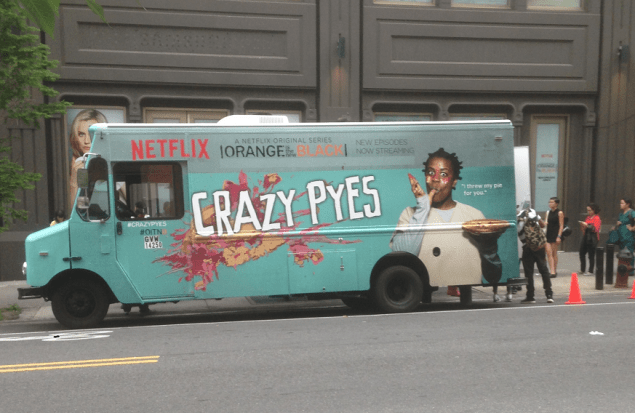 Unsurprisingly, the line for Netflix's Orange is the New Black themed pie cart on Broome Street, Crazy Pyes, stretched about halfway down the block. The show is immensely popular and hey free pie.
But not everyone in attendance was a fan. A solitary protester name Jermeen stood on the corner. Jermeen claimed to be a former inmate at The Federal Prison Camp in Danbury, the same prison where Piper Kerman, the author of Orange is the New Black, was incarcerated.
"I feel that this book profits and exploits women who were formally and presently incarcerated," she told me. "Piper wrote about a number of women who were still in prison when her book came out and that was in 2010. They've never been acknowledged, they've never been thanked so to me,she's profiting from women who were in prison and has really never done anything to give back."
Jermeen goes under the Twitter handle PrisonGray053 and also pens the blog xxx053. The number 053, she told me, was the last three digits of her inmate ID number. She also mentioned she was at Danbury from May 2009 to August 2010, and has been struggling with employment due to her felon status since being released.
And she has a lot to say about Crazy Pyes.
I suppose they do not. I also must address the elephant in the room. I don't feel good saying it, but "Nothing Sacred But The Truth," right? Jermeen shares a similar "Crazy Eyes" affliction with the food cart's inspiration, Suzanne "Crazy Eyes" Warren (played by the obviously multi-talented Uzo Aduba)  The irony was real. I didn't bring it up.
Meanwhile, those lining up for the choice of free pie or a "chocolate and vanilla swirl" ice cream weren't as outraged. Probably because many of them had never seen the show.
"I haven't seen the show, but I've heard about it from family members," said Trent from Poughkeepsie. "I plan on watching it. My sister has Netflix."
Right behind him in line was Daniel from New Jersey who, despite only being caught up to episode five of season one, had an air-tight reason for showing up to Crazy Pyes.
"I work right over there and I'm on lunch," he said. "Either way, it'll get me out of work."