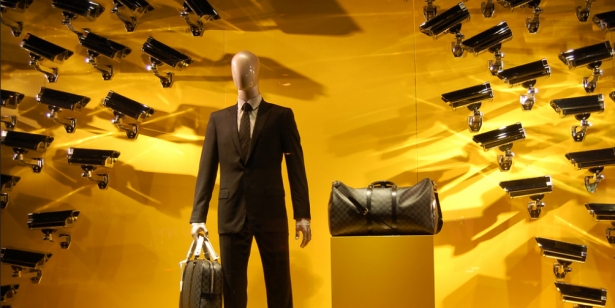 Welcome to Freshly Minted, where we examine an overlooked deal or funding announcement in tech from the past week, and tell you what you need to know, and why it matters.
This week's deal: Secure messaging app Wickr closed a $30 million Series B to build a social network with NSA-level encryption.
If the naysayers are to believed, privacy is dead, and no one cares whether or not Facebook, Twitter and Google are collecting our personal data and selling it to marketers. Wickr, on the other hand, is an app for people who haven't given up the fight to keep their correspondence private. And it's growing rapidly.
In fact, Wickr doesn't collect any user data at all, avoiding the temptation to shill for advertisers altogether.
"If you have a database of gold, it will surely be owned," Nico Sell, the eccentric CEO of Wickr told Betabeat while she was visiting New York this week.
Instead, Wickr is betting that they'll find a loyal userbase who want to use their platform out of trust, because they know their conversations aren't owned by billion-dollar corporations. And now the world's best investors are making the same bet on Wickr.
Among the major investors is Jim Breyer, the crowned champion year after year of the Forbes Midas List of top tech VCs. Mr. Breyer knows how to build a social media company, given his experience as one of the first ever Facebook investors, and will be joining Wickr as a member of their board. But even with the superstar investor, will anyone care about another messaging app, even if it is as secure as they get?
That depends on if they can become much more than just a messaging app.
Nobody Cares
Wickr's business model goes against the grain of other social networks, whose worth comes from the value of their database to advertisers. Instead, Wickr is like a heavily-encrypted Snapchat — only Snapchat actually holds on to data after it dissolves. Wickr keeps nothing, which is its strategy for building a loyal following.
"Security and privacy is how we keep customers. We don't sell your information, or lose it, so you'll never leave us once we're on board."
As for that attitude that no one cares about security? Ms. Sell says that's just an issue of marketing; phrase the question a certain way, and you'll find out that people really do care about privacy.
"Kids spend all day in a surveillance state," Ms. Sell said, "and if I say to kids, 'Do you want to escape the surveillance state of your parents and your system?' they say yes."
In that vein, Ms. Sell markets the app to kids who want to be super spies, and calls the app "top secret crypto that a three-year-old can use 100 times a day." Then again, if parents were worried about Snapchat harassment and bullying, just wait until their kids start crying about Wickr.
For the kid-friendly appeal, the app has a whimsical look, and when a message self-destructs, it plays an animation of the message going up in flames. But Wickr wants to move into territory far beyond apps that make spy games out of the prying eyes of helicopter parents.
Spy vs Spy
On the surface, Wickr seems like a pretty elementary app. Once you add some contacts in, you can chat and send pictures, audio and some attachments. The self-destruct timer has a much wider range than Snapchat, allowing you to dissolve messages from three seconds to six days away.
But what makes Wickr really special is what it has going on under the hood. Wickr uses forward perfect secrecy, which means every message gets an individually generated private key. The algorithm that powers the encryption is called ECDH-51, which was created by cryptography legend Whit Diffie.
This puts NSA-level encryption on every message sent through Wickr, and everything sent through the app eventually self-destructs.
"We're essentially just a transporter of gibberish," Ms. Sell said. "By doing it this way, we know nothing about our users."
In the age of Big Data, developing an app that knows so little about its users seems like startup suicide. But Wickr is leaning on a tried and true model for messaging app success, and dreaming big about how they can sell their algorithm,
The Plan
The early plan for monetizing is just like Whatsapp or WeChat: offer a free app, and then start selling premium content like emojis and stickers through in-app purchases. But Ms. Sell has plans for Wickr bordering on grandiose, and her vision goes way beyond selling dancing panda emojis.
After all, what Wickr has that really sets it apart is killer cryptography, and even if Ms. Sell won't admit that Wickr is a security company, they're starting to behave like one. Though she's under a lot of NDAs, Wickr is in conversations with a whole slew of other tech startups — competitors included — about offering their encryption services.
It sounds like spycraft when she describes it: if she can embed her security protocol into other services, Wickr could become a network underlying dozens of apps and services.
"There will be some apps that you won't know are powered by Wickr," Ms. Sell said. "They'll have the same network underneath, and that's why we'll win. We'll have the largest network and the most friends in our system."
Another move for Wicker is to court the financial community, trying to sell them ECDH-51 as the best way to encrypt business data. It's why Ms. Sell was in New York this week: to convince Wall Streeters that an app like Wickr could effectively store transaction and records. With all of the added investor interest in fintech and cybersecurity startups, pitching Wickr as an enterprise service could be a lucrative market.
Along the way, Wickr's main app will continue to grow and expand into new services, emulating other messaging and social apps.
"I'm really trying to take over Facebook and Skype as well," Ms. Sell said. "We've been testing calling for over a year internally."
Wickr now handles millions of messages a day, and is growing in users 100 percent every two and a half months. With Mr. Breyer's expertise, that could grow into something formidable, and even convince users that there's something valuable about privacy after all.
"To have Jim Breyer on the board is the most amazing thing ever," Ms. Sell said. "Not to mention the millions of dollars is good too."