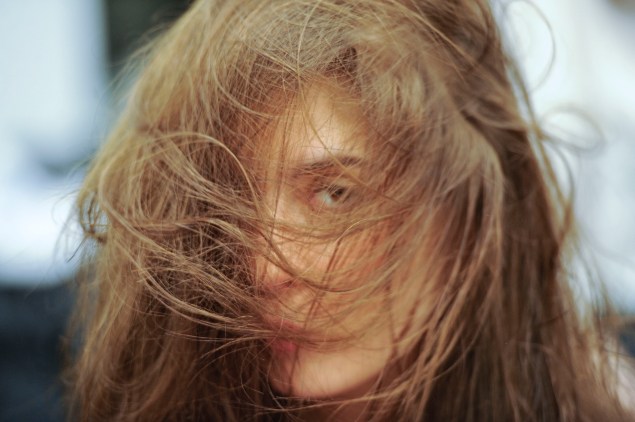 It's that time of year again. When the unwelcome F-word makes it way back into the conversation. We're talking about frizz and nowhere does it worse than New York City. Forget the paparazzi, this is the real reason why Jennifer Aniston hardly ever comes here and Kate Hudson skipped town last week. At New York's best salons, city dwellers and beach goers are booking back-to-back appointments for uber-addictive straightening treatments. They promise a perfectly sleek, straight-out-of-the-water look with zero frizz and zero hassle. While traditional keratin still reigns supreme, environmental and health worries mean some salons are offering new or updated applications.
Paul Labrecque provides two types of keratin at his Upper East Side and Chelsea salons. One takes out 75 percent of curl and frizz, while the newer application removes 30 percent. "Some people like the dead straight look that but a lot of my clients are now asking for a little body, or ripple, it's that sexy beach wave," said Labrecque. "Either option still makes summer hair very easy to manage."
Labrecque's keratin concoctions start at $350, and devotees happily shell out the cash to comb through magically straightened tresses in July. He claims the only downside is addiction. "I tell my clients they have to choose their months wisely – April to August – and make sure the second time is a good six months later," said Labrecque. "My really curly girls want it all the time and they'll end up burning the outer layer of the hair if they do it too often. I turn them away and tell them they're not ready."
Labrecque uses a state-of-the-art vacuum mask to perform keratin treatments at his Core Club location, so neither clients nor stylists will inhale potentially toxic fumes.
At Warren Tricomi, a new treatment called Cezanne has stylists working overtime come spring. Cezanne is similar to the covetable keratin application but without the formaldehyde. "It delivers essentially the same results as traditional keratin or Brazilian treatments but without any of the dangerous chemicals," said salon co-founder Joel Warren, who won't perform keratin for safety reasons. Warren touts Cezanne as a healthier alternative to traditional keratin specifically for color-treated hair. The best part is that unlike traditional keratin, clients don't have to wait the endless 72 hours to wash it out.
At John Barrett some clients are opting for the Shu Uemura's Shushu Sleek Smoothing Treatment Masque. "It's perfect for smoothing frizz, especially in the humid summer months," said Mahogany Grace, a stylist at the salon. The product is enriched with black cumin oil and it deeply nourishes and conditions the hair while providing lightweight control. It's an "as needed" option after washes and before blow drys. However the salon is still taking massive requests for traditional keratin. It's the number one most preferred treatment, particularly from April to June. "Clients will get the treatment right as the weather begins to heat up because they know they'll be at the beach or in the pool and they need their hair to be low-maintenance without looking undone," said Grace.
But whatever happened to doing things the natural way? That's what Sarajane Lynch wants to know. The stylist at the super hip Whittemore Salon in the West Village promises that a good round brush, heavy-duty product and a great blow dryer will go the distance this summer. "It's important to maintain the integrity of your hair," said Lynch. "There's freedom in just owning it."