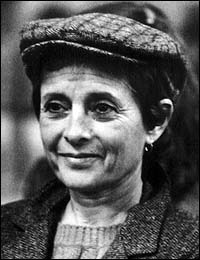 The category is Lifetime Achievement, but the award being presented to Patricia Birch on June 2 at the 32nd Annual Fred & Adele Astaire Awards at NYU's Skirball Center might be better with a customized title: Director-Choreographer with the Most Eclectic Credits in Christendom.
Should she ever take the time to stop and look back at where she has been for nearly 60 years—fat chance!—Ms. Birch would see a career that looks much like a pinball machine where she skitters here and there, with rhyme but no reason and certainly no plan. 
"I didn't plan anything—I didn't even plan to choreograph," she told the Observer in an interview at her poster-plastered, award-cluttered apartment on the Upper East Side. "I was a dancer," she said, "from the West Side Story generation."
Indeed, Pat Birch—her name's been close-cropped to match her signature hair style—still looks like Anybodys, that tough-talking tomboy who ran with (mostly alongside of) The Jets. In 1960, she was brought into the New York production of West Side Story from the show's road company when the actress who originated the role, Lee Theodore, was sidelined with a bad knee.
It was a fitting breakthrough role; as it turned out, Ms. Birch is an Anybodys who can do anything, anywhere. Unrestricted by mediums or disciplines, she has spent her professional life fanning out, extending herself—from Martha Graham to Saturday Night Live, from Merchant Ivory movies to Cyndi Lauper videos, from Pacific Overtures to The Electric Company, from Rydell High-jinx to Boardwalk Empire bumps-and-grinds.
"I'm all over the map, I know that," she sighed, not unhappily. "I jump around a lot."
The rewards for such artistic freewheeling are all over her office—two Emmys (for Natalie Cole: Unforgettable and Celebrating Gershwin), two Drama Desk Awards (for Grease and Candide) and five Tony nominations—but these are hardly what one would expect of somebody who had her beginnings in the super serious world of modern dance. 
Merce Cunningham discovered Ms. Birch when she was all of 12 years old. Cunningham was teaching at Perry-Mansfield in Colorado and brought her to Martha Graham and the School of American Ballet. "I was perfectly happy with that, and then I wasn't so happy with that," she said. "I yearned to do theater." 
She got two Broadway shots before she was Anybodys. Goldilocks, an unmixable one-time-only mix of Leroy Anderson and the Kerrs, Walter and Jean (!), mostly just gave her a much-needed break from the Graham company. "I was the baby of the Graham company. She would pin costumes on me. I grew up in that company. When I was about 16, I was doing kids' parts for her."
The other production, Brigadoon, brought another formidable influence into her life—Agnes De Mille, the first female to direct and choreograph a Broadway show. "In some ways, primarily in my build and my size, I was probably more of an Agnes type," Ms. Birch recalled. "I wasn't a long-torsoed, serious-serious, Greek type. So different, so different—those two. Agnes once said, 'Graham is a genius. I'm a very good carpenter.' She was right. Of course, she had her own kind of genius."
Ms. Birch started tippy-toeing to the other side of the footlights Off-Broadway with You're a Good Man, Charlie Brown, a 1967 musical based on the comic strip. She was pitched the part of Patty, and turned it down. "Patty was a silly little girl, and I am forceful—like Lucy, except I couldn't sing Lucy—but we made a deal: I'd understudy Lucy if I could assist the director. Came the weekend, I did Lucy—two shows—and there was no voice left. But, as I was backstage looking at what I had choreographed, I thought, 'You like doing that more than doing Lucy.' It was the turning point for me."
Seconding that was Gary William Friedman and Will Holt's The Me Nobody Knows, which, fittingly, introduced Ms. Birch to Broadway as a choreographer. "Then, I got it. Then, I got why everyone said, 'You should choreograph because you have ideas.'
"What was fun for me was learning how to illuminate the songs in a way that meant something to the kids in that show, using their moves and getting ideas for how to present songs, letting 'If I Had a Million Dollars' take place with kids bored in school. I always need to find a context to choreograph. I'm no good without a context.
"The guy I respect most doing stuff nowadays is [Steven] Hoggett. He goes for the characters. I loved American Idiot. So what do you think kids do at that age when they don't know where they are? They're looking for something, and they're beating their heads against the wall. They just don't have a wall. I'm really comfortable with that age group—obviously, with Grease and The Me Nobody Knows. That's my gang."
Far and away, the most successful show that Ms. Birch ever set in motion was Grease. It became the longest-running Broadway show in its day with 3,388 performances the first time around (it's now #15 on the list). The 1978 film version became the third highest-grossing of its time (after Jaws and the first Star Wars). 
The next step for Ms. Birch was characteristically unpredictable. Somehow, Harold Prince thought her hard-driving 1950s-rock moves would work out well in 1900 Sweden and Stephen Sondheim's one-and-only all-waltz score, A Little Night Music. And he was right. The two went on to collaborate on Candide, Pacific Overtures, Roza, Parade and Lovemusik.
"I don't know what Hal's like with anyone else, but we have a discussion about what it is and where it's supposed to go," Ms. Birch said. "I do it, and he either says, 'I get it,' or 'Patty Mae, I don't get that.' So I fix it so he does. That's the way we work. We barely have to talk."
TV—i.e., The Electric Company and Saturday Night Live— sharpened Ms. Birch's skill set. Her proudest SNL moment: Steve Martin and Gilda Radner, both in white, in a five-minute spoof of Fred Astaire and Cyd Charisse "Dancing in the Dark" in The Band Wagon.  
She's now in her fifth year of work on Boardwalk Empire, decorating mayhem. "Often when they kill people in clubs or parties, I choreograph the background dancing."
Happily, Ms. Birch hasn't run out of frontiers. "My passion right now—the passion—is Orphan Train," she trumpeted. It's a musical with a historical reference point: America's first national experiment in foster care, in the 19th century, in which 250,000 children were taken off the streets of New York and delivered to adoptive families in the Midwest. It premiered for two days last October in Grand Central Terminal's Vanderbilt Hall and will do a "Heartland Tour" this year to Los Angeles' Union Station, playing schools, museums and railway stations along the way.
"We did it up at New York State Institute in Troy very successfully, and people said, 'Bring it in,' but I want to tour it first and help raise money across the country," Ms. Birch said. "It's about five kids on an orphan train, one of whom gets arrested for shooting someone by mistake and is hanged. We don't show you the hanging, but this ain't Newsies."