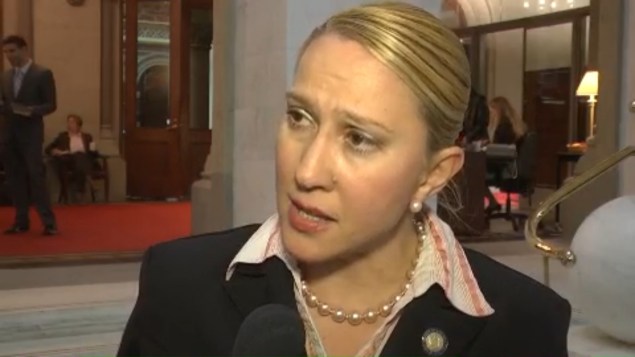 Manhattan Assemblywoman Gabriela Rosa confessed in court today to marrying a man under false pretenses to obtain United States citizenship and to not reporting property and income when she filed for bankruptcy in 2011.
Ms. Rosa plead guilty in court to taking a husband in 1996 in order to become an American, and to lying about her reasons for marrying to immigration officials over a period lasting until 2005. She also admitted to failing to report her second spouse's income and her ownership of a co-op apartment when she filed for Chapter 11 bankruptcy in 2011.
She will be forced to resign her assembly seat.
"I falsely got married to a U.S. citizen in order to regularize my citizenship," the Dominican-born Ms. Rosa said in federal court this afternoon, tearing up as she spoke. "I married this person, and it was not a real marriage."
Ms. Rosa will face a maximum of 10 years in prison and a $250,100 fine at sentencing on Oct. 3.. Her bail was set at $100,000.
Outside the courtroom, however, Ms. Rosa and her attorney took a bolder tone, with lawyer Matthew Myers calling it "a minor crime." They noted that, even though prosecutors classified the charges as a corruption case, they referred to actions taken long before she was elected to the Assembly in 2012
"I want the people to really see that I did not do anything wrong in my legislative duties," said Ms. Rosa, calling for comprehensive immigration reform. "All I'm saying is that I am not the first one and I do not think I will be the last one."
Judge Denise Cote declared she will be barred from running for future office for which citizenship is a requirement. Mr. Myers stated he did not believe her citizenship would be affected by the plea.
Ms. Rosa refused to say if prosecutors had asked to her act as a cooperating witness against any other elected officials.
Mr. Espaillat and Councilman Ydanis Rodriguez, who serve overlapping districts in upper Manhattan, issued a joint statement expressing their dismay to the Observer. Mr. Espaillat was recently a candidate for Congress and was instrumental in helping elect Ms. Rosa.
"Elected officials must be held to the same standard as the constituents they serve, and we are shocked and disappointed by the charges announced today," they said.