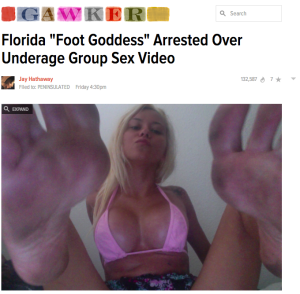 When writing about a Florida foot fetishist's arrest for filming a group sex party with underage girls, it's important to keep it classy. At least journalistically.
Gawker writer Jay Hathway has been suspended after a reader noticed that a post he wrote about the arrest of a self-described "porn-diva" "foot-goddess" on Friday had too many similarities to a Miami New Times story and failed to cite or link to it.
In an editorial note today, Gawker editor Max Read explained that Mr. Hathaway said he had read the story by New Times writer Kyle Munzenrieder before writing the Gawker post and "didn't intend to duplicate any of their article" but did intend to link to it.
"I believe Jay, but both the inadvertent duplication and the lack of citation are serious errors. Since even the appearance of wrongdoing does damage to our credibility and integrity, I'm suspending Jay for a week. Both he and I offer our sincerest apologies to Munzenrieder and the New Times," Mr. Read wrote.
The original post did give credit to a story on The Daily Dot and linked to the Miami Herald, which The Daily Dot post credited. It's unclear where the New Times story fits into this tangled web of citation. And in a way, that points to a central problem with the form.
Aggregating from other news sources is still, after all these years, the lifeblood of the Internet. But doing it without getting called out for mild plagiarism is an art form of sorts. Best practices demand that the blogger change up the phrasing and story structure, hopefully bring some kind of added value (say a snarky and original sentence or two) and clearly cite the source.
But how far back in terms of citation and linkage should the blog post go? In this case, the Gawker story gave The Daily Dot a hat tip, but didn't extend that to The Daily Dot's source, nor to the New Times, which somehow fits into everything. Add to that the challenge of trying to remember which open tab one originally read the story in and different formats for time stamps (which could otherwise help clarify the timeframe), and, well, it is understandable that it sometimes gets tricky.
As Mr. Read told Poynter about the incident, he plans to "look at the site as a whole" to ensure that they continue to maintain "best 'how not to blog like a huge prick' practices."