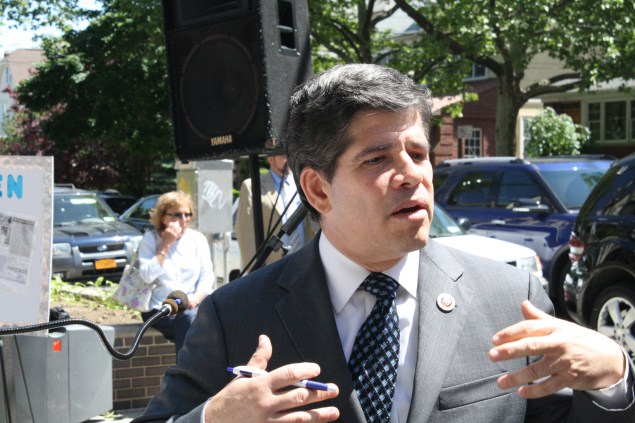 Vincent Gentile lost his State Senate seat in Brooklyn more than a decade ago to Marty Golden–and now the councilman may be ready for a rematch.
Mr. Gentile, a Democrat, confirmed to the Observer yesterday that he is mulling a bid against Mr. Golden, a Republican, and hinted that if he ran, the outcome could be far different than when Mr. Golden toppled him in 2002.
"It would take a lot to pull me away but certainly I understand the bigger issues in our state and the goal of getting a Democratic State Senate so based on that I am getting the input I should be getting and we'll see in a week or two," Mr. Gentile said at City Hall yesterday. "I am enjoying my job but I'm saying there are bigger issues here."
Gov. Andrew Cuomo, labor unions and Democrats in the State Senate have been actively working behind-the-scenes to return the senate to Democratic control, sources say, and one area these forces have singled out is southwest Brooklyn, where Mr. Golden presides over a district that includes Bay Ridge, Dyker Heights, Gerritsen Beach and Marine Park.
Mr. Golden enjoys high name recognition in the senate district–which critics say was heavily gerrymandered to include as many conservative pockets as possible–and is already facing a little-known challenger in business owner Jamie Kemmerer. Democrats are optimistic, however, because the Bay Ridge portion of the district that Mr. Gentile represents has been adding Democrats and liberals; Andrew Gounardes, Mr. Golden's Democratic challenger two years ago, performed very well there.
Mr. Gentile, a deputy leader in the City Council, is very aware of this. Now in the first year of his final four-year term, Mr. Gentile would not have to give up his council seat to run–if he won, however, he's be sacrificing the council's six figure salary for the senate's base salary of about $80,000.
"A rematch someday is always a possibility," Mr. Gentile said. "I think my area has become more Democratic and eventually there will be smaller and smaller pockets that Marty Golden can rely upon so if it's not this cycle, there will be a cycle very soon where he will not have the same deep support that he used to have in the same district that he drew, that he drew the lines for."
Senate Republicans were dismissive of Mr. Gentile last week.
"Another year, another boast from Senate Democrats about this being the year they're going to take out Marty Golden. Excuse us if we've heard this one before," Scott Reif, a spokesman for the senate GOP, told State of Politics.
A spokesman for Mr. Golden said he would definitely be re-elected.
"Regardless of who our Democrat opponent is, Senator Golden will be reelected because of his experience, dedication, and understanding of the issues that effect our communities," Ray Riley, a spokesman for Mr. Golden, said.