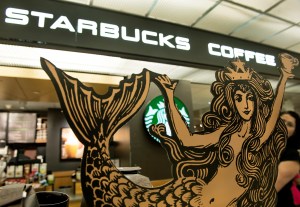 Strippers and lattes: they're both hot and will drain your wallet.
So naturally, a former strip club in Rego Park, Queens is being eyed for a drive-thru Starbucks.
Atlas Projects Inc., a New York City developer, is interested in converting a two-story retail space once home to Goldfingers strip club—a notorious joint that closed in 1999 after complaints—into a gym and coffee shop.
Goldfingers had quite a colorful history during its reign on Queens Boulevard. While it drew hoards of customers nightly, its proximity to homes and a youth center prompted complaints over the years. It was the last of the four Rego Park adult-entertainment clubs to close, and was the subject of this snarky New York Times article from 1999.
The new 26,000-square-foot structure hopes to recompense its neighbors: it will include a Retro Fitness gym on the second floor and a drive-thru Starbucks on the ground floor, sources told DNAinfo. The drive-thru Starbucks would be only the second in the city.
The building isn't set to be complete until June 2015. Approximately 8,000 square feet of space at the site is still available, according to the retail broker for the property.
May we suggest a juice bar?