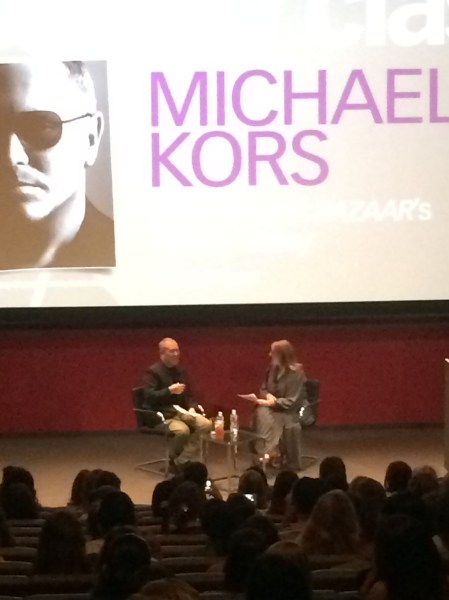 When Glenda Bailey, Editor of Harpers Bazaar sat down to chat with her good friend Michael Kors at the Hearst Tower yesterday evening, the audience knew they were in for a few giggles. Part of a series of talks in the Hearst Masterclass series, Ms. Bailey tempered more serious questions on turning points in Mr. Kors' career with fun, shared anecdotes.
One story summed up Mr. Kors' lifetime of enthusiasm for the fashion business — the legendary ceiling collapse at his 1990, super-model-packed show "It fell on Suzy Menkes, her hair was covered in plaster dust," Mr. Kors recalled, still looking horrified by the thought all these years later.  "I was so terrified for her I rushed over and said 'Are you ok? Do you need an ambulance?' She said 'I am fine, carry on!' So we swept up and started the show again."
Mr Kors is a New York legend. For the Hearst Tower audience he recalled discoing-down at Studio 54 in ripped-up, silk jersey Tarzan pants and helping Jackie Onassis choose her casual wardrobe at groovy Lowthers, the now-defunct West 57th Street emporium where Mr Kors got his fashion start.  His first collection was bought entirely by Vera Wang, then a Fashion Editor at Vogue Magazine.
Inevitably with fashion folk, the conversation turned to zodiac signs. Mr Kors is a Leo, and despite jokes about being a cowardly lion some of the time, he admitted that in all of his work, Mr Kors is the fierce king of the pride.  Perhaps the underlying Leo instincts lead him to be a cat rather than dog-owner. Mr Kors and his husband Lance LePere named their two pet cats Bunny and Viola after Mr Kors' two favorite great aunts and, launching into a Long Island-accented description of these venerable ladies, Mr Kors had his audience laughing out loud. He finished on a serious note, offering valuable advice to many of the young fashion writers in the room. "Your work has to be inspiring and aspirational"  he said, "but you must convey valuable information, too."  He concluded,  "Success lies in the balance."
Wise words from a master.