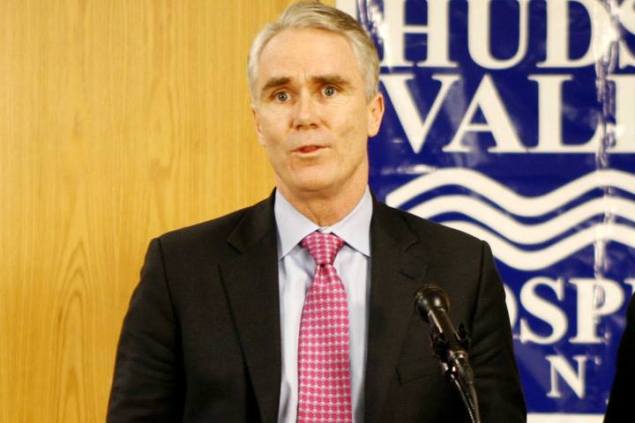 Attorney General Eric Schneiderman's Republican rival John Cahill told the Observer that he opposes the Democrat incumbent's litigation against room rental start-up Airbnb and the San Francisco-based taxi company Uber.
The former chief-of-staff to Gov. George Pataki argued that Mr. Schneiderman's subpoena of Airbnb's customer data and his investigation of Uber's surge pricing are part of a larger anti-business attitude–one Mr. Cahill argued discourages innovative new products and services.
"We need to protect the public, but in ways that allows new industries to develop," Mr. Cahill, who suggested reforming existing law instead of forcing new industries to conform to it, said in an interview yesterday. "We have new technology, and our current regulations do not allow for them. So we need to change our regulatory strucure. There is a way to address things without first going to the courthouse."
Mr. Cahill praised Airbnb for offering more options to people seeking to stay in New York City, though he said the law needed to be adjusted to allow for collection of taxes from its revenues.
"I think generally it does something positive that allows something new to consumers," the long-shot GOP challenger said.
Similarly, while he said the state needed to be sure Uber's drivers are properly screened and insured, he is a fan of the service–and a regular customer.
"I use it all the time," Mr. Cahill said.
Mr. Schneiderman's camp defended his investigation of Airbnb, and ripped Mr. Cahill for what they considered a disregard for the law.
"Attorney General Schneiderman's first priority is enforcing the law, keeping New Yorkers safe and protecting their quality of life.  That's why he's fought against illegal hotels, which can result in fewer affordable housing options and put renters at risk," said spokesman Peter Ajemian. "It's extremely troubling that John Cahill believes the state's top law enforcement officer shouldn't enforce laws already on the books, especially ones meant to protect New Yorkers."
Updated to include comment from Mr. Schneiderman.