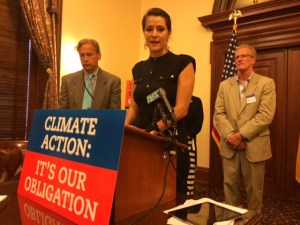 TRENTON – Climate change could be the global issue that most dramatically affects humanity's future. On Thursday, an assembly of New Jersey state legislators and residents affected by extreme weather called on the Garden State powers that be to act on a local level and back recent federal moves meant to combat climate change.
Environmental advocate Jeff Tittel, director of the New Jersey chapter of the Sierra Club, was flanked by state Assemblywoman Bonnie Watson Coleman (D-15), state Senator Donald Norcross (D-5) and state Senator Bob Smith (D-17) as he spoke out in favor of proposals made by President Barack Obama's administration to fight climate change.
"The [Environmental Protection Agency] has come forward with a rule that would require a 30 percent reduction nationally on greenhouse gases, and every state has to come up with a plan to meet those goals and targets," said Tittel, referring to a June 2nd EPA proposal entitled "Clean Power Plan," a new proposal for limiting carbon pollution from power plants, which is the first step in the implementation of President Obama's proposed national climate action plan. "For New Jersey, it's very critical, because we have some of the worst air pollution in the nation. We've also suffered tremendous damage from Hurricane Sandy. We've seen climate impacts first hand. But we also have the ability to use these rules to move New Jersey forward. The only question is will [Governor Chris Christie] allow us to go forward, or will he hold us hostage to some of his national political agendas."
Jersey City resident April Kuzas, the mother of a four-year-old boy who has asthma, talked about how carbon pollution has created challenges in her family life.
"I wake up early, pack my son's lunch, get him ready for the day, except I have to prepare one more thing – I have to check the ozone, and see if it's going to be a bad or good day," Kuzas said. "I'm not alone. In urban areas, asthma is growing at a high rate. According to the EPA, we can avoid up to 150,000 asthma attacks per year if we just take action. Action is needed now."
Sea Bright resident Robert Long noted how Hurricane Sandy devastated his Monmouth County seaside town and how he and his wife, Sea Bright Mayor Dina Long, have yet to return to their home following the October 2012 superstorm. Yet Long also pointed out that following nature's wrath, human action can combat extreme weather caused by climate change.
"The press described Sandy as the Frankenstorm," Long said. "What was interesting to me is that the Frankenstein monster was a human creation as well."
"If we don't get people to understand, even in New Jersey, just how critical this is, then we'll really missing the boat," added Watson Coleman. "We have a responsibility to the generations that come after us. To do anything else is just political folly, and we can't accept that in the state of New Jersey."