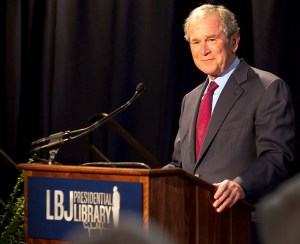 It's a sad, sad day in legal news.
The Romanian cab driver who rose to fame after hacking George W. Bush's AOL e-mail account and posting his bathroom self-portraits online has been sentenced to four years in prison, The Verge reported.
Marcel Lazar Lehel, 42, used the alias "Guccifer" to hack into the accounts of the former president and several of his family members in 2013, according to the Guardian.
He uncovered top secret info — home addresses, phone numbers and email addresses belonging to both former U.S. presidents and dozens of their relatives — but the bathroom nudies are obviously what went viral.
Personal email correspondence between former U.S. Secretary of State Colin Powell and a Romanian European Parliament member that prompted Powell to deny allegations of an affair were also leaked. Still, the thing we'll remember most is the sight of GWB's depiction of himself in the bath. We simply can't forget it — there was too much presidential leg.
Mr. Lehel, who also went by the alias "Small Fune," allegedly hacked the accounts of several other high-profile people including the head of the Romanian secret service, three members of the House of Lords, Obama administration officials and a long list of entertainers, journalists, academics and military and government officials. He reportedly often used Wikipedia to guess the answers to his victims' security questions.
He might be going to prison, but he'll always be a hero to us.