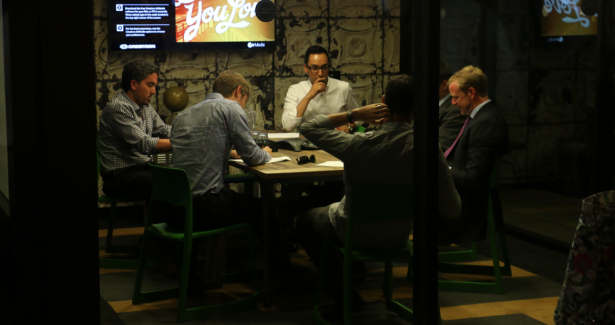 A buzzing, mostly male crowd drinking beer on tap at a coworking space? Oh yeah, it's Demo Day.
Last night at WeWork's new "Charging Bull" location in the NYC Financial District, ReTech held what they claimed was the world's first real estate tech challenge. The crowd was a combination of the New York startup scene and notable real estate figures, putting selvedge denim and gingham short-sleeve shirts alongside pinstripe suits and paisley pocket squares.
"We work in [a real estate] industry that isn't technology forward, but that's what we need," featured judge Jared Kushner told the crowd at the start of the ceremonies (Discolsure: Mr. Kushner is the owner of Observer Media, which publishes Betabeat). "Building owners have to start behaving like technology companies."
Many of the startups were simply yet another listing site that pulls from open data to make online maps, leading the judges to ask: "How is this any different?" Unsurprisingly, none of those web apps even placed in the top three.
Here are the big winners from last night's Hacker Challenge:
Kisi (1st place) – The keycards that many modern pencil-pushers use to get into their office can get lost, stolen, can't be tracked, and generate no data. In the Internet of Things, we can't have that. Kisi allows your phone to become your key, unlocking not just your buildings and offices, but eventually bicycles, garages and cars. Their service includes a software dashboard for landlords and tenants to manage digital keys online. Kisi's list of happy clients — WeWork, AlleyNYC, Techstars, and NYU Polytechnic — along with a fun presentation helped win approval from the whole audience.
EZbldg EHS (2nd place) – Recently, Macy's was fined almost $50,000 just for throwing out lightbulbs the wrong way. Building owners are often caught in expensive, semantic snares — not because they don't care, but that they aren't always aware of the thousands of pages of shifting regulations. EZbldg EHS generates a custom, idiot-proof checklist for property managers so they can follow all of the laws precisely. Legislative compliance may not scream "hot tech product," but when the team put the potential savings in real dollar amounts, they had the judges' full attention.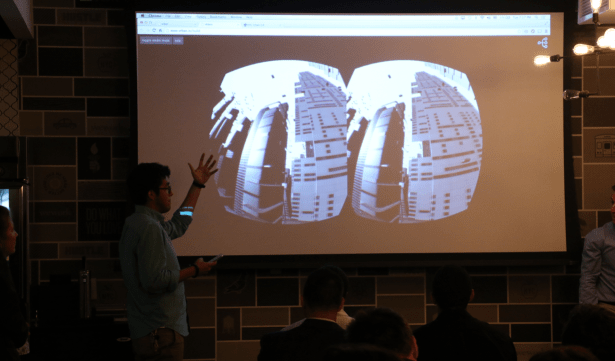 Vrban (3rd place)- New skyscrapers in New York often have unforeseen consequences, such as suddenly blocking out the night sky for its neighbors. Vrban is building a platform where you can use Oculus Rift to explore a new development before it's built to see what the potential impact ahead of time. They're looking for funders to give their business an early boost, and given that they won the Techcrunch Disrupt NY Hackathon last month, we don't suppose they'll have much trouble. Bonus points go to Vrban for using a Zoolander clip in their presentation.
Office Scout (our honorable mention) – Office Scout creator Marcus Yearwood is studying brain science as an incoming junior at Tufts University. His web tool helps you learn important details about your office space — not things like square footage, but subway access, air quality, who your neighbors are and if you can get a decent lunch in the neighborhood. The tool was pretty rudimentary, and the presentation was a little clunky, but you gotta give the college kid an A+ for effort.