Forget the character or landmark orders currently being slapped on bits of Manhattan and Brooklyn—the North and South Forks of Long Island enjoy no such limits. Sure, houses lining village streets must retain their original, road-facing features, but behind the façades, these houses are being lifted on their foundations to create three-story, glass-backed, mini-mansions. If you are seeking a Mad Men-era house in the style of the Pan Am terminal at JFK, forget it. All such models were flattened in the '80s. This ground-up trend is currently at fever pitch. Over the past year, there has been a huge increase in the number of overall teardowns and gut renovations. This means that while perfect examples of recent architectural ideas and lots of reproductions are on view, architectural heritage is not. 
Tackling a gut renovation is fashion photographer Don Ashby and his wife, Kathy, who saw an old house on Maine Street, East Hampton at a yard sale last year, which they described as a "time capsule."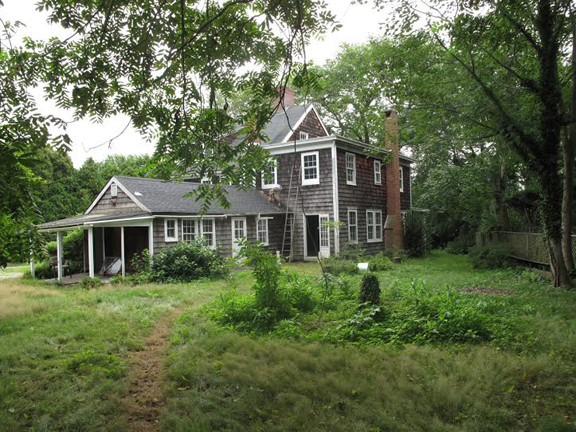 "It looked like a wreck, and we knew it would be a project," said Mr. Ashby. "My wife and I are both interested in design and did the whole plan ourselves. We have a particular style, and we're pretty hands-on. We're not pounding nails ourselves, but we're there every day and it's a commitment."
They spent more on fixing it up, he said, than on the house itself.
"We have light under the stairs, so the stairs will kind of glow. I'm interested in light because I'm a photographer," Mr. Ashby said. 
Since the home was located in the historic district, they couldn't change anything about the structure that was visible from the street. They did, however, dig a new foundation, lift the house, lower the basement floor and heighten the ceilings.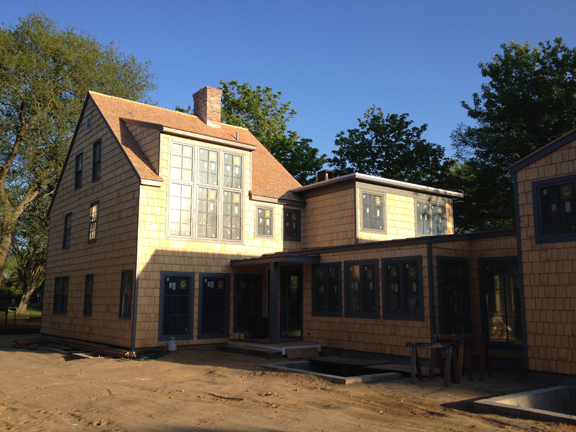 "We had to keep the original windows, which nowadays is ridiculous, since they're all single pane. We also had to get the paint color approved," he said. "We knocked out the attic floor and doubled the height of the first floor, and the master bedroom is tall with extra windows. We put in a new kitchen in the back and built an L-shaped pool. The windows look into the pool as if it were a moat, like it's a castle."
"I'm happy to have done it, but I'm not sure I'd go through it again," he said. 
The Ashbys were lucky to find an existing property to renovate. Anthony DeVivio, managing director of Halstead Property in the Hamptons, said that new construction has outpaced resale by a tremendous amount over the past year, with a record-breaking 51 new-construction homes sold.
"There isn't enough new construction to match what we do in resale homes, but in terms of price command and length on the market, new construction is No. 1," he said.
According to Mr. DeVivio, new homes now spend less time on the market and command as much as a 25 percent premium in price compared with comparable homes that are up for resale but older.
"We had a brand-new six-bedroom house in Quarey Circle that was very contemporary inside, but traditional outside and sold within four weeks of completion. Countless homes just like it have remained in the market for months."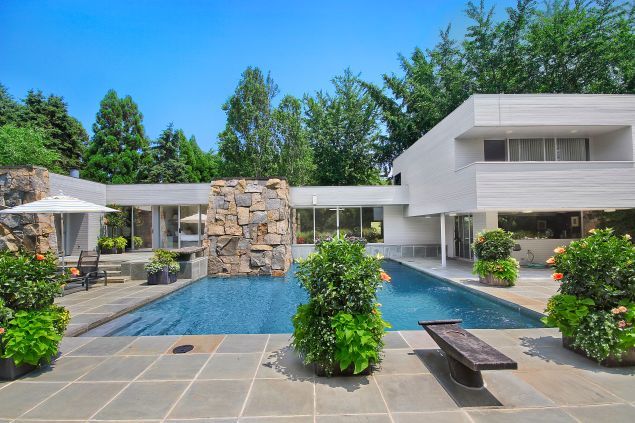 So who's snapping up these sparkling spaces? The buyers tend to be younger, successful Wall Street and hedge fund employees who don't have time to DIY—and aren't really into '80s deco. "They just want it done so they can come out here and enjoy it," he said.
Martha Gundersen, a broker at Brown Harris Stevens, also finds that people who can afford new are looking for the wow factor. 
"They're after the immediate gratification of new amenities and designs. The bar has been raised in the last two years. People want a lot of square footage, which is a knee-jerk reaction with all of the new developments going on in Manhattan," she said.  
Ms. Gundersen just sold a Norman Jaffe house for $4.5 million on an acre of land south of the highway that cost more in renovations than it would have to start over. 
"It's a shame, because Norman Jaffe was a well-known architect, but the value of that land is worth more than the house. On Amagansett Lane, a half-acre of land is worth in excess of $2 to $2.5 million. There's no value on these old '80s and '70s houses. Land is scarce now, but two years ago, land wasn't selling at all. Now you can't find any, so people are looking at teardowns." 
Expectations have also changed. According to Ms. Gundersen, buyers require  a pool, a tennis court, a finished basement with 10-foot ceilings, a sauna, a Jacuzzi, a massage room, a pool table in the basement, big windows, natural light and three stories of living space rather than two. 
Creative types with the time to consider teardowns are also feeling more ambitious. 
"People watch these shows on TV and know the designers and can order everything online, ready to put their stamp on it. You don't have to run around picking things up anymore. It's exciting to have your own taste," Ms. Gundersen said. "People say, 'Mortgage rates are low. I can afford to buy something, so I'm going to put my stamp on it.'"
Lindy Woolcott, a designer, recently submitted plans for a 7,100-square-foot home in Water Mill, to replace a smaller, older house that she knocked down. 
"Existing houses either have a cottage feeling or you get a modern glass box with hard edges and minimal detail. This is going to be a perfect combination of the two: an English manor house with traditional Hamptons styling, done in a clean, modern way. It has a modern approach but a family-friendly feeling," she said. 
The floors are open plan, and there's a lot of natural light as well as a home theater and a large English staircase. The structure will be Georgian-inspired with regimented windows and clean architecture. 
"We're going for an Italian streamlined kitchen with high-end, modern appliances, and there will also be a lot of marble, limestone and natural materials. It's very important to do that," Ms. Woolcott said. 
Ironically, she's also planning to build several brick structures around the perimeter of the house, meant to look like old buildings that were originally there. This may contribute to local character, still the main ingredient missing when it comes to Hamptons property.