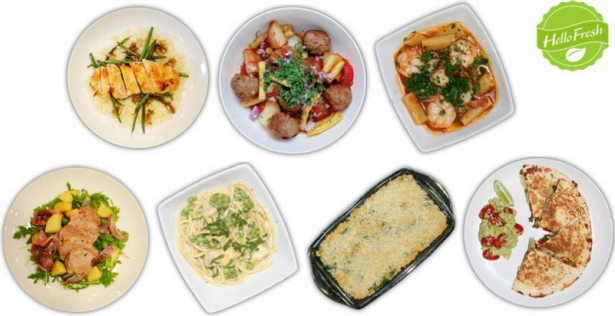 HelloFresh, the recipe delivery service that sends boxes of fresh ingredients to your doorstep, announced today they closed a $50 million Series D. The round was led by New York's Insight Venture Partners, with additional contributions from existing investor Phenomen VC.
Founded in 2011, HelloFresh sends customers weekly boxes of fresh, pre-portioned ingredients, along with easy-to-follow recipes for healthy meals. The recipes are developed by HelloFresh's team of chefs, and are meant to take around 30 minutes to prepare, without the use of any fancy shmancy equipment.
Customers can choose between getting three or five meals delivered per week. They can also specify whether they'd like a Classic Box ($10.75 per meal) or a Veggie Box ($9.08 per meal). Sadly, gluten-free boxes aren't an option yet.
In the week leading up to HelloFresh's funding announcement, Betabeat seized the opportunity to test HelloFresh for ourselves. We got a box containing the ingredients for three meals — a one-pot shrimp stew, spicy meatballs with roasted potatoes, and apricot glazed chicken with lemony green beans.
We made all three meals, adding substitutions wherever necessary to accommodate our gluten intolerance, which wasn't too hard. We found that HelloFresh's recipes were really simple, but very tasty; they required a small amount of time and equipment, and were surprisingly easy to make on a work night. And as we noted the last time we tested out a meal delivery service, it's nice having all your ingredients perfectly proportioned, so that you don't end up wasting the stuff you don't use. This plate of food took us about half an hour and very little effort to prepare:
"We have the unique opportunity to change the way people think about dinner by offering them a hassle-free way to enjoy high-quality and healthy, self-cooked meals with their partner or family in their own home," HelloFresh founder and CEO Dominik Richter said in a press release.
Already with offices in Berlin, New York, London, Amsterdam and Sydney, Mr. Richter hopes to use the new investment "to establish a whole new category on the wider grocery market and to build up a truly global consumer food brand," according to the release.