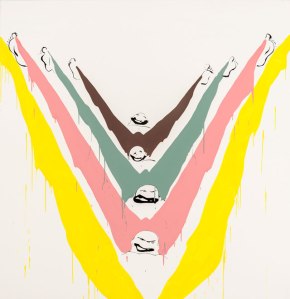 Today the Louis Comfort Tiffany Foundation announced the latest winners of its biennial award, which are administered by Artists Space and come with unrestricted check for $20,000. You probably have seen work by a lot of them recently! It's a pretty great list, with a wide range of artists, including Leslie Hewitt, Alex Hubbard, E'wao Kagoshima, Simone Leigh, Mary Reid Kelley, Jacolby Satterwhite, Nancy Shaver, Shinique Smith and more. The full list follows below.
Mark Barrow
Ariel Brice
Jane Corrigan
Marsha Cottrell
Paul Gabrielli
Alexander Kori Girard
Leslie Hewitt
John Hiltunen
Alex Hubbard
Steffani Jemison
E'wao Kagoshima
Simone Leigh
Steve Locke
Tala Madani
Jeffry Mitchell
Milena Muzquiz
Mark Newport
Seth Papac
Mark Ponder
George Porcari
Mary Reid Kelley
Daniel Rios Rodriguez
Jacolby Satterwhite
Nancy Shaver
Shinique Smith
Sarah Sudhoff
Justin Randolph Thompson
Mungo Thomson
Oscar Tuazon
Molly Zuckerman-Hartung
Those winners were selected from among 137 nominees by a jury comprised of Phong Bui, Chrissie Iles, Kathryn Kanjo, Charles LeDray, John Perreault, Cindy Sherman and Robert Storr.