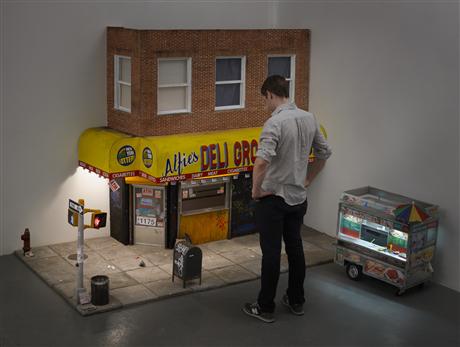 Drew Hamilton is an imperfectionist.
The Idaho-raised artist's latest creation, "Street Corner Project," on display now at the BRIC Arts Media House in Brooklyn, is a quarter-scaled version of the view from his second floor Brooklyn apartment. More than just a 3-dimensional blueprint, the piece includes the smallest and dirtiest details, true to the block's form — a Frito's bag in the trash can, blackened gum on the cement, and a garbage bag beside the door of Alfie's Deli Grocery.
For Mr. Hamilton, 29, these are the imperfections that make his work "true." "The more I looked at it, the more I thought that everything was important," he told the Observer.
SCP is an archaeological record of New York, telling the story of a city frozen at one vantage point in time and space. The trash and filth of the street punctuate that story, creating fossils of city life.
"It's sort of like a geological process," Mr. Hamilton explained. "…When you're on the subway and walking up the stairs, [you see] the places that people step every day have sort of worn down over the last hundred years. It's almost like seeing how water changes the landscape. It's this really interesting interaction between living things and the physical world."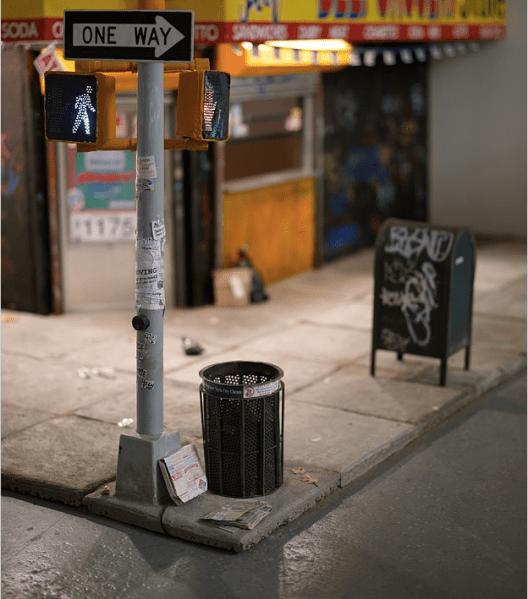 When Mr. Hamilton first started displaying his model on the street, before his BRIC exhibition and residency with the NARS Foundation, he was concerned that community members might take offense to the hyper-realistic display of their neighborhood. But, to his relief, people seemed to find the project endearing, given that the blocks with graffiti and dilapidated storefronts "tell more of the stories of the people who live there. Life isn't just swept away, it's just there," Mr. Hamilton said.
"God forbid you end up in the suburbs somewhere where there are manicured lawns everywhere," he added.
While the white picket fence-fantasy was clearly never for this Midwestern model-maker, even Mr. Hamilton, ever the realist, used to have his own romantic notions of what it meant to live in New York. He was intrigued by the idea of scraping by as a young artist in the city, believing that "if it's immediately a great experience working in New York, there's something wrong."
He lived out this gritty aesthetic in an odorous $495/month Flatbush attic, which he rented when he first moved into the city seven years ago. His experiences in Flatbush, including waking up every day to the smell of urine and making ends meet as a bartender, have informed the imperfect New York world he seeks to recreate in his art.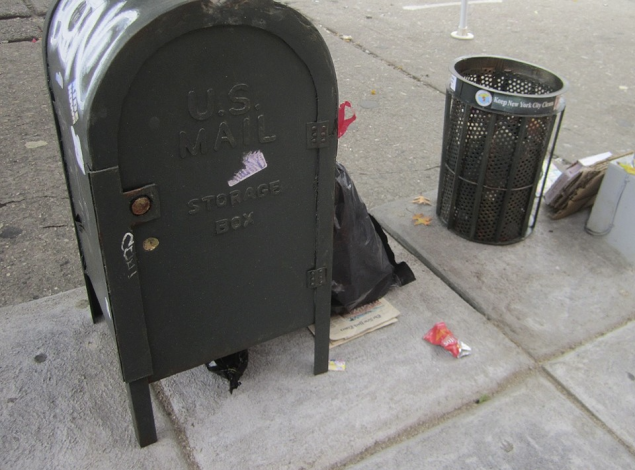 Mr. Hamilton has since traded in his original vision of New York life for a more polished one. He now works at Kennedy Fabrications—a studio based in lower Manhattan—creating architectural models. And although his work now requires him to nix any stray marks or non-uniform lines, he still hasn't shaken his favor of flaws.
"The main difference between professional architectural model making and what I was doing is in model making, there's sort of a birds-eye view," Mr. Hamilton said. "There's no trash on the ground. It's this utopian version of the way people live in New York."
And while he's learned to handle the tasks at hand, he still itches for the perfectly imperfect details he's grown to love.
"I'm always the one that's trying to convince my boss to add the fire escapes," Mr. Hamilton said.