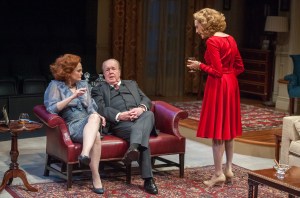 With Robert Schenkkan's Lyndon Johnson bioplay, All the Way, having just flown off with 2014's top Tony Award, it's easy to forget that the political play is the rarest of theatrical birds. Yes, there is producer Jeffrey Richards's perennial political-year revival of Gore Vidal's The Best Man and Stuff Happens at the Public, but with a few exceptions—among them Mr. Schenkkan, whose The Great Society, his sequel about LBJ's next four years, bows next month in Oregon—they just don't write 'em like that anymore.
Another exception is The City of Conversation, Anthony Giardina's 30-year overview of Washington, D.C., intrigues and alliances—from Jimmy Carter's "Malaise" speech in 1979, calling for federal judges to resign from all-white country clubs, to the first inauguration of an African-American president in 2009. In between is the firestorm Ted Kennedy's "Robert Bork's America" speech ignited in 1987, blasting Ronald Reagan's nomination of the Court of Appeals judge for the Supreme Court.
Front and center for all of the above is actress Jan Maxwell at her grandest (and, arguably, best), playing a political animal nearing extinction—the Democratic doyenne who threw after-hours bipartisan bashes where major players could wheel and deal in convivial party mode. That character's name is Hester Ferris, and, as a Washington hostess, she rivals Mrs. Sally Adams (a.k.a. Perle Mesta) in Call Me Madam.
"These Washington hostesses during the Kennedy era were quite powerful—who they invited, who sat where, all that," Ms. Maxwell told the Observer recently. "In that day and age, it was real power because politics was decided at these dinners."
Proof of Hester's celebrity lines the walls of Ms. Maxwell's tastefully appointed Georgetown townhouse. "They have photo-shopped me into all of these historical pictures," the actress laughed. "That's me with Truman Capote at the Black and White Ball he threw to celebrate the publication of In Cold Blood. That's me with LBJ, me with Jack Kennedy, me with Martin Luther King, me on the cover of Time. I'm demanding I get these pictures so I can put them around the house and people will go, 'What? What?'"
Ms. Maxwell exudes class and breeding and sophisticated wit—an easy elegance that has of late been well spent on playing other actresses (The Royal Family, To Be or Not to Be, Follies). Playing gracious hostess in the political arena is just a stone's throw away from that.
What's more, she's glamorous (and game) enough to get away with making her entrance in a housedress and hair curlers, prepping for "a little Judiciary Committee thing" ahead that she's hosting. "I think it humanizes her from the very top," Ms. Maxwell said. "She does have to prepare. She does have to get ready. It's not all 'Lights! Camera! Action!'"
Unlike All the Way, where Bryan Cranston's tagline is "It's not personal. It's just politics," City of Conversation is as personal as it is political. The swift shift in the national political landscape is reflected in the family upheaval that Hester goes through.
The play opens with Hester's son, Colin (Michael Simpson), returning from the London School of Economics with a new political agenda, courtesy of his new girlfriend, Anna (Kristen Bush), who embodies the rising wave of Reaganomics in thigh-high boots and a miniskirt. When Anna innocently asks if she could observe how Hester prepares for one of her power-stacked soirees, Hester's eyes narrow to slits, like Margo Channing really seeing Eve Harrington for the first time. "I think I saw that movie," she says. What she sees is blonde ambition on the march.
Sure enough, Anna skewers Hester's manipulation of a conservative senator, wins a place in his office and announces she'll be Hester's new daughter-in-law. "Hester's not at her best that night," Ms. Maxwell conceded. "She's been sucker-punched—first of all, that they came a day earlier than planned and again when she sees they're not on board with Teddy Kennedy. She didn't know she'd be blindsided by her own son and his girlfriend. What they did was premeditated and horrible."
Much of Act 2, which takes place eight years later, finds Hester tending her grandson (Luke Niehaus) with one hand while, with the other (probably her left), still fighting the good fight, working surreptitiously to block Bork's appointment even though that's detrimental to her son's newfound political career. In the in-house power play that follows, the grandson becomes something of a football.
Ms. Bush is an able match for the formidable Ms. Maxwell, and the fur flies in their political catfights. "We really go at each other," Ms. Maxwell said, "and it's very hard on us. Every once in a while, we have to check in with each other. You know how you can take things offstage with you? We've trained ourselves to drop it. I like playing with the little boy the most. He's such a sweetie, and we really get along so well. We're fooling around backstage, and I think it carries onto the stage. I just love children so much."
A couple of her other notable performances would beg to differ with that: the countess in The Sound of Music and the baroness in Chitty Chitty Bang Bang both loathed children, adding a nice splash of vinegar to the abounding sweetness and light. But that's why they call it acting, and Ms. Maxwell is especially adept at camouflaging her claw marks with grace and charm. It shocked her a little to see how audiences are so squarely in Hester's corner, "but it's so gratifying to be telling a story and having people really grabbing onto it and taking the ride with us."
"Hester is so close to home for me, it's rather scary. It's like when you read a play and you know who this is. It's wonderful in the way you can relate so readily and not be afraid to throw some of your own quirkiness into it. I'm sure Hester has that, too."
She particularly relates to Hester's politics. "One of my first memories is handing out flyers for Muskie door to door, my mom in a car driving me from house to house in frigid North Dakota. I grew up in an incredibly liberal household in a conservative state, so many of these conversations went on when I was growing up. My parents were—and still are—interested in politics. In fact, I have a picture of my dad in his World War II uniform shaking hands with Obama on one of his first campaigns."
The other side of the coin is that Hester's addiction to politics makes her a deeply flawed individual. "I don't know if I could say such mean things to my son, although, of course, we've all been there," Ms. Maxwell admitted. "It's kinda one-way-or-the-highway with Hester. She's bombastic and bossy, very passionate about liberalism. I do think most people coming to the show have that same belief, so I appreciate the fact Tony wrote a character who's not that likable—who's imperfect—because we all are. I like that she's a bit hard to take. Fact is, I seek out unsympathetic women when I look for roles. "
Maybe her next career move should be toward a prison movie. Ms. Maxwell laughed at the idea, waved a fist at heaven like Scarlett at intermission and vowed, "Give me a bitch of an impressionable age, and she is mine for life!"