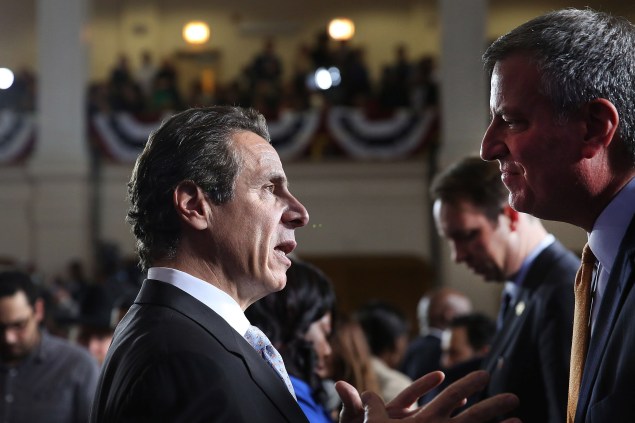 The rift between mainline Democrats and the Independent Democratic Conference appears to have been mended.
Gov. Andrew Cuomo and State Senator Jeff Klein, the leader of the breakaway faction of Democrats that governs the senate with the GOP, said in a joint statement this afternoon that the Democratic conference and the IDC would unite in a new power-sharing agreement after the fall elections, sidelining the Republican Party.
"As Democrats, the IDC remains committed to the fight for an equal education for all New York students – which the Dream Act would provide, protecting a woman's right to choose, increasing workers' wages, and enacting meaningful campaign finance reform. I agree with Governor Cuomo that these are progressive priorities we must pass," Mr. Klein said in a statement.
"Therefore all IDC members are united and agree to work together to form a new majority coalition between the Independent Democratic Conference and the Senate Democratic Conference after the November elections in order to deliver the results that working families across this state still need and deserve," he added.
Mr. Klein and Mr. Cuomo, along with Mayor Bill de Blasio and labor leaders, have met behind closed doors in the past few days to discuss the possibility of reconciliation. Mr. de Blasio helped broker a deal to deliver the Working Families Party line to Mr. Cuomo last month and in turn Mr. Cuomo promised the left-leaning party–and Mr. de Blasio, a liberal Democrat–that he would work to put the Democrats in the majority.
Left-leaning Democrats have bemoaned the IDC-GOP power sharing agreement because it kept the Republican Party in the majority and stifled some liberal legislation. Democratic primary challenges were launched against IDC members this year in retaliation; it's not immediately clear if these challenges, including ex-Comptroller John Liu's bid against State Senator Tony Avella and ex-Councilman Oliver Koppell's challenge to Mr. Klein, will continue.
Labor unions, who sources say leaned hard on Mr. Cuomo and Democrats to reach a deal, immediately hailed the move. Many labor unions may pull their support for Mr. Liu and others, leaving the candidates do decide whether to take continue their bids. Challenges to State Senators David Valesky and David Carlucci may end as well, sources say.
The power-sharing agreement is a win for Mr. de Blasio, who is likely to be able to implement more of his liberal agenda in the next state legislative session. Republicans will see their clout diminished.
State Senator Andrea Stewart-Cousins, the senate minority and potential majority leader, thanked Mr. de Blasio and labor leaders for working toward a deal.
"I want to thank the unprecedented alliance of elected officials, led by Governor Cuomo and Mayor de Blasio, as well as the representatives of organized labor and New York's advocacy groups, for campaigning so effectively that the will of the people be properly recognized," she said.
Mr. Cuomo applauded the agreement.
"I applaud the IDC's decision. There is no doubt that we have accomplished much for the state over the past four years. We have transformed the state government from dysfunctional to highly functional, a deficit to a surplus, and losing jobs to gaining jobs," Mr. Cuomo said. "There is also no doubt there are progressive goals that we have yet to achieve and that we must accomplish next January."
In a lengthy, furious statement, State Senator Dean Skelos, the GOP co-majority leader, predicted the agreement would fall apart.
It's unfortunate that Mayor de Blasio, the radical Working Families Party and their co-conspirators in the Senate Democratic Conference are attempting to take control of the New York State Senate. This 'agreement' is nothing more than a short-term political deal designed to make threatened primaries go away.

Both Senator Klein and I realize that our historic coalition has made great progress for the people of this state, and more importantly the majority of New Yorkers believe that as well. In fact, just today the Governor was touting our shared accomplishments. It's unfortunate that the Governor would cave to the Working Families Party and what they stand for – – higher taxes and spending – – and is that concerned with a primary from a largely unknown challenger. Many of the achievements we've had together over the last four years would not have become reality without strong Senate Republican leadership, and would not have occurred with an all-Democrat state government.

Senator Klein has witnessed what it's like to govern in a Senate that was dysfunctional and in one that has functioned well. No one wants to return to those days of failure and chaos.

In the heat of primaries and elections, people say a lot of things. When primary season is over, I'm confident that cooler heads will prevail. And,make no mistake that once the dust settles from this election, Republicans will have a full majority. Even then, we will continue to work with Democrats to cut taxes, create jobs and move this state forward.