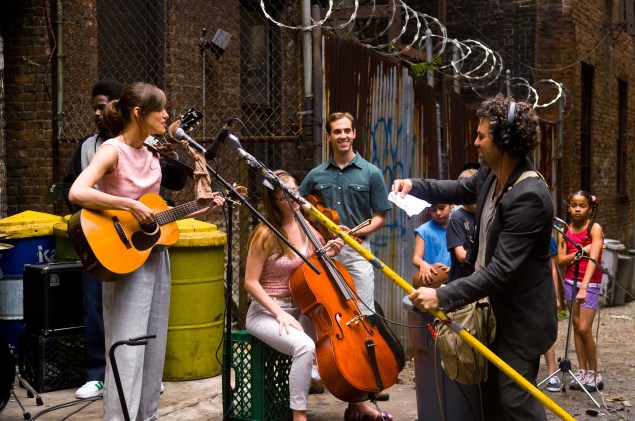 Originally titled Can a Song Save Your Life?, this elusive little music-infused rom-com with a forgettable pop-rock score performed largely (and unwisely) by the lovely British film star Keira Knightley, premiered a year ago at the Toronto International Film Festival to overwhelming indifference. If you somehow see it, you'll understand why. Now called Begin Again, it's finally opening commercially on a marquee near you.  
---

BEGIN AGAIN ★★
(2/4 stars)

Written and directed by: John Carney
Starring: Keira Knightley, Mark Ruffalo and Adam Levine
Running time: 104 min.

---
Ms. Knightley plays Gretta, a pretty songwriter from London who travels to New York with her writing partner and long-time boyfriend Dave (real-life pop star Adam Levine, in his screen debut) to make their mark in the Get Famous business. While Gretta languishes, Dave is signed by a major label, climbing to success on Gretta's songs. Fame goes to his head. Gretta gets dumped for another girl and left behind with nothing but her bicycle, then rescued by Dan Mulligan (Mark Ruffalo), an over-the-hill record producer (which usually means too old to peddle today's trashy music with sincerity).
True enough, he's drunk, shabby, out of shape and divorced with a rebellious teenage daughter (Hailee Steinfeld) who thinks he's a washed-up loser. She's right. In one day, Dan gets fired from his executive job at the record company he founded in better times, kicked out of the house by his hostile ex-wife (Catherine Keener) and his car breaks down. At his lowest ebb, he wanders into a club in the East Village where Gretta is singing one of her sad songs about loneliness in the city, imagines a potential future star replete with arrangements and backup singers and finds his mojo.  
The center section of the film focuses on the phases of preparing a demo (which nobody can afford), collecting musicians who are willing to work for nothing and recording an entire album all over town under bridges and in alleys, subways and vacant lots, using street kids and even Dan's estranged daughter Violet on guitar. While they dart around New York dodging the cops, without benefit of a soundproof studio, amplifiers, overdubs and mixing boards, their playlists blast through the soundtrack with everything from Sinatra singing "Luck Be a Lady" to Dooley Wilson singing "As Time Goes By" while Dan and Gretta fall in love. Too bad the rest of the movie's songs don't live up to the source music. It's all quite preposterous, and the Ruffalo-Knightley pairing projects no chemistry as two lonely, depressed souls who find, through music, the courage to risk starting over.
The whole thing culminates in a rock concert by Maroon 5's Adam Levine, a real recording star who shouldn't be, with a falsetto screech that sounds like hog calling. Like everything else in the movie, his attempts to get Gretta back fizzle, and so does the alleged, unconsummated romance between her and Dan. But she does get a hit CD out of the laborious enterprise. In an absurd finale imaginable only by writers on mind-altering mushrooms, Gretta turns down the dream contract she's been praying for all of her life and sells her CD on the Internet for one dollar a copy. It's all supposed to be meaningful and heartfelt in a movie as phony as a Lady Gaga music video. But Irish writer-director John Carney (Once) demonstrates no evidence that he knows anything about naturalism, so the actors' improvisations just come off as amateurish. The lugubrious pop songs by Gregg Alexander are execrable. Ms. Knightley isn't remotely believable as a bike-riding pop singer. The saving grace is Mark Ruffalo, the only actor on the premises who shows any grit or passion for his character or for the music business. 
Hard to believe John Carney's overrated 2007 movie Once won awards for the ghastly song "Falling Slowly." The Broadway show it inspired is still running in New York and London. God forbid Begin Again spawns another one.