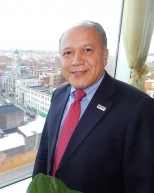 Mayor-elect Jose 'Joey' Torres today announced members of his transition team, who will complete a thorough review of key city departments and agencies to provide Mayor-elect Torres with information needed to make important policy and personnel decisions.
"I am pleased to announce my transition team, members of the larger New Jersey community, whose work I admire and trust. Their expertise is invaluable to me and in the months ahead I'll be relying strongly on their advice as we work to meet the challenges that face the great City of Paterson and as we take measures to move the city onward," said Mayor-elect Joey Torres.
"Throughout the following months, our transition process will also include public, community meetings with City residents, stakeholders and all who have a deep commitment to Paterson's future. Soon we will be providing an email address and want to encourage everyone to be part of this interactive dialogue."
The Transition team members will make recommendations on a series of fields, including; Law and Public Safety, Job growth and Economic Development, Budget, Urban planning, municipal government and the environment.
Transition Team Members
Lori Grifa – is a former Commissioner of the NJ Department of Community Affairs, where she chaired the NJ Meadowlands Commission, the NJ Redevelopment Agency, the NJ Council on Affordable Housing and the NJ Housing Mortgage Finance Agency. During her tenure, Ms. Grifa helped create 3,000 units of affordable housing and managed the annual grant programs involving nearly $500 million. Ms. Grifa will Chair the Housing and Community Development committee.
Charles Latini, PP, AICP – is the Managing Partner of L&G Planning LLC – Planning, Design & Redevelopment. His firm helps municipalities create sustainable communities through informative open public dialogue. His company works towards building understanding of the complexities and consequences of land development decisions and creating strategies for implementation. An expert urban planner, Mr. Latini will Chair the Transit and Open Space and Recreation committee.
Jennifer Senick, MA, PhD Candidate – is the Executive Director of the Rutgers Center for Green Building at the Edward J. Bloustein School of Urban Planning and Policy Development at Rutgers University. She is an experienced urban planner and was trained in Political Science, Economics and Public Policy from Bowdoin College, the University of California, Los Angeles and the Rand Corporation. Ms. Senick will serve as Chair of the Environment, Remediation of Brownfields and Sustainability committee.
Vaughn McKoy, JD, MBA – served as first in command in the NJ Division of Criminal Justice and as federal prosecutor in the United States' Attorney's Office. Since 2006 he serves as Chief Legal Counsel to PSEG Long Island, a subsidiary of the Public Service Enterprise Group, Inc. He is also President of the PSEG Foundation and Director of Corporate Social Responsibility & Sustainability. He's a graduate of NYU's School of Business and Rutgers Law School. Mr. McKoy was born and raised in the City of Paterson and is a product of its public schools. He is author of Playing Up: One Man's rise From Public Housing to Public Service through Mentorship. Mr. McKoy will Chair the Law and Public Safety committee.
Frank M. Donato – is a retired Judge to the New Jersey Superior Court and appointed Judge of the Passaic County District court. As NJ Superior Court Judge he chaired the Supreme Court's Model Criminal Jury Charge committee. Judge Donato has an extensive experience in law having served as Law Secretary to the NJ Supreme Court, Assistant Prosecutor for Passaic County, and directing his law firm Donato & Donato. He currently serves as Counsel to Vivino & Vivino in Wayne, ADR clients include several NJ municipalities including Paterson. Judge Donato will serve as Chair of the Law committee.
Thomas Rooney – is a former Mayor of Paterson. A native Patersonian, he also served as Councilman for the 6th Ward for over 28 years. Mr. Rooney is most recognized for his unwavering campaign in favor of the Paterson Falls Park and his fiscally responsible budgets. Because of his extensive knowledge on Paterson government, Mr. Rooney will serve as Chair and advisor of the Municipal government committee.
Freeholder Theodore O. Best, Jr. (T. J. Best) – is the youngest Freeholder ever elected in Passaic County. He was born and raised in the City of Paterson and at an early age got involved in student government at East Side High School and the City's NAACP, youth division where he became president of both. Freeholder Best has served as Commissioner and President of the Paterson Board of Education and as Program Director of the Great Falls Youth Development Center and Advisor for the Paterson Youth Council. He currently serves on the Human Services Committee and as Chair of the Planning and Economic Development Committee as well as Chair of the Health, Education and Community Outreach. Mr. Best will Chair the County Government and Shared Services committee.
Peter Soriero – is proprietor of Allied Risk Management Services and specializes in claims administration, insurance procurement programs and administration of insurance funds. He is an expert in liability claims defense and investigation and settlement of liability insurance claims. Mr. Soriero will serve as Chair of Insurance and Risk Management.
James Gallagher – has served as Director of Personnel, Customer Service and Information Technology for the Passaic Valley Water Commission since 1990. He is an expert on contract negotiation. He previously served as Director of Policy Planning and Management for the City of Paterson (1990-1994,) where he advised on policy, budget, planning and development of the Urban Enterprise Zone. Mr. Gallagher was an Adjunct Professor of Public Administration at Kean University and will Chair the Budget and Personnel committee.
Jamie Dykes – is founding member of the Downtown Paterson Special Improvement District Inc. and is President of the Greater Paterson Chamber of Commerce, since 2001. A well-recognized member of the community, Mr. Dykes is a member of numerous distinguished association such as: the Paterson Rotary Club, member of the Board of Directors Greater Paterson Chamber of Commerce 1992-2000, Chairman of the Paterson Restoration Corporation from 2001- 2012, Advisory Board member of the Paterson Economic Development Corporation and member of numerous Advisory Boards and Commissions. Mr. Dykes will Co-Chair the Economic Development and Small Business committees.
Manuel González – is owner of Costambar Restaurant in Paterson, NJ and founder of the Costambar baseball league. He currently serves as President of the Association of Latino Merchants of NJ, ADCLAN-NJ. He was born in Luperon-Puerto Plata, Dominican Republic and has resides in Paterson since 1996. Mr. Gonzalez will serve as Co-Chair of the Economic Development and Small Business committees.
Joseph Cheff – is President of the Passaic County Education Associations Inc., which counts with 12,000 members. He has been a teacher for 32 years in Paterson's Public Schools. Mr. Cheff was born in Paterson and will serve as Chair of the Education committee.
Michael O'Reilly – retired Chief of the Jersey City Fire Department, has over 29 years in public service experience having served in every rank for the Jersey City Fire Department, the second largest fire department in the state of New Jersey. Chief O'Reilly also served as Hudson County Fire Coordinator and was Jersey City Fire Representative for USA Region I. He will serve as Chair for Fire Department services.