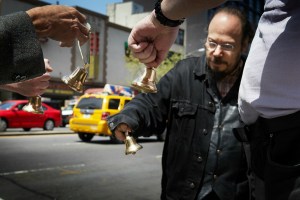 Last Saturday afternoon at precisely 12:57 p.m., 20 people exited the New Museum toting bronze bells the size of pill bottles and scattered out along the Bowery, ringing them as they passed pedestrians. I was among them, and wandered down to Delancey Street. Only a few people turned to look. Though it resembled some sort of a religious ritual (there is a Hare Krishna temple a few blocks away), it was actually a performance tied to David Horvitz's "Gnomons," an exhibition tucked away in a staircase between the museum's third and fourth floors.
Mr. Horvitz has shown at museums and galleries around the world, but he uses the Internet as a platform for much of his work. PayPal is integral to his practice. On his website you can pay a dollar to have him think about you for a minute (he sends you an e-mail when he has started and stopped his contemplation). "Gnomons," named after the blade on a sundial that casts a shadow, is a slightly more conventional affair.
The show has four tangible works, all concerned with capturing, and questioning, how we measure time. A pair of iPhones, tipped sideways and set side by side, play videos of a sunrise in Maldives and a sunset in California—two places that are literally a day apart. A few steps down, a nook in the wall holds a photograph called Mood Disorder, which has a man enveloped in a painful moment of some kind; it's the artist holding his head in his hands while waves crash in the background, mirroring his sense of doom.
Hanging from the ceiling, stretching down the staircase, is the show's magnum opus: a set of 47 bells called Let us keep our own noon. On Saturday, as visitors scrunched past each other in the skinny staircase, there were only 27 bells up above. The other 20 had been taken down and were awaiting their performers.
Mr. Horvitz greeted his volunteers by the staircase, a sunflower in one hand and a bike helmet in the other. "Hey, did you guys know that today is the solstice?" he asked. His eyes darted around, searching for enthusiasm. There were quite a few smiles. He gave his instructions: we would begin by ringing the bells 12 times as a group at 12:57 p.m.. It was the local noon of that day, he explained, the time when the sun is actually highest in the sky. Local noon, the midpoint between sunrise and sunset, changes based on the day's length, so the solstice made noon late that day. After a dozen rings, we would disperse, still waving our bells, walking until we could no longer hear any of the sister bells.
The bells were created from one 1742 French church bell that Mr. Horvitz bought for about €500 (about $680) at a shop in Berlin and melted down. He was mesmerized by the object, which once marked time for an entire town. "It generated routine and the synchronization of the community," he said. "That still exists today, but now it's on your watch…or more likely your iPhone."
As the work's title suggests, Mr. Horvitz wanted the performers to ignore standard time and make their own. It felt awkward at first, wandering through the neighborhood with the bell. A few strangers cast suspicious glances. But, as we dispersed, everyone seemed to find their own rhythm and tempo. After about a minute of walking I could no longer see my fellow bell-ringers, but I still felt connected to them by the invisible string our ringing created. It felt a bit like a game of Marco Polo. When I veered off onto Christie Street, there was a lonely silence. I rang my bell a few more times, half hoping I would hear another bell and half hoping it was over so people would stop raising eyebrows as they walked by. But in those final rings, I also started to notice the tempo I had fallen into, beating out a time unrelated to clocks and iPhones.
It's not just the rules of time that Mr. Horvitz has toyed with in his practice. Mood Disorder, the photo of him with the waves, comes from a series of pictures that he puts online as open-source images, free to take, and often finds later on all sorts of odd websites. (In 2012, one of his friends stumbled across the photo on the Wikipedia page for mood disorders.) He's also quietly flouting the rules of the museum, regularly adding a fifth, unofficial work to "Gnomons": a hairball from his cat Demian that Mr. Horvtiz puts on a different step every time he visits the exhibition. "It's about games, playing games," he said with a devious grin.
Then his face shifted and he began to discuss the open-source photographs. He is in each of them—or rather, his foot, hand or back is. You can't identify him unless know about the project. "I was interested in all these people who end up in the backgrounds of pictures nowadays," he said. "You see this brief moment of your life, but it's in someone else's photograph."