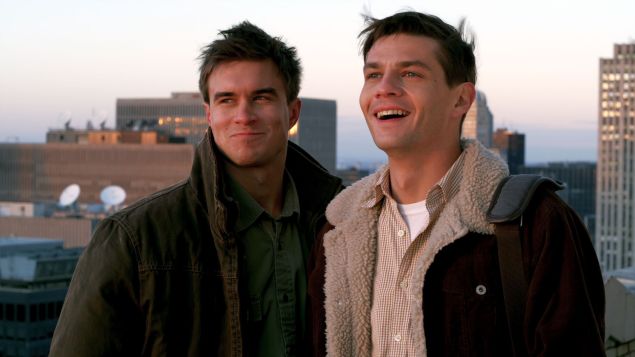 A good idea gone bad plagues this movie adaptation of D.M.W. Greer's controversial 1992 play Burning Blue, a sensitive study of two dashing Navy pilots crushed by a gay witch hunt during the formation of President Bill Clinton's "don't ask, don't tell" code of conduct regarding homosexuals in the military. According to the film's coda, the lives and careers of 14,000 individuals who refused to compromise were destroyed before President Barack Obama threw the whole insulting rule out the window for good. This is the story of two of them.  
---

Burning Blue ★★
(2/4 stars)

Written by: D.M.W. Greer and Helene Kvale
Directed by: D.M.W. Greer
Starring: Trent Ford, Rob Mayes and Tammy Blanchard
Running time: 96 min.

---
Daniel Lynch (Trent Ford) and Will Stephensen (Morgan Spector) are Navy pilots, best buddies and the sons of admirals who have promised each other they'll stick together in war and peace—marry, have children and grow old as devoted and inseparable buddies. Will is already married, and Dan has been dating one girl for eight years. Their dream is to be the youngest flyers ever accepted into the space program. After two fatal accidents occur in their close-knit squadron in a very narrow margin of time, their whole unit becomes the focus of an investigation by the NCIS. At the same time, a third pilot named Matt Blackwood (Rob Mayes) arrives on the aircraft carrier, bonds with Dan and becomes a wedge between him and his bunkmate Will.
Their attraction is as inexplicable as it is sudden. Will is hurt and baffled, but as the government sleuth sent to uncover the truth about the deaths of their shipmates begins to observe, Matt becomes a real threat to Will's friendship with Dan and a serious competitor for their promotion to the space program.  
The Navy digs into rumors about Dan and his new comrade, Matt, but the deeper the probe the darker the secrets that emerge. Dan and the impossibly charismatic Matt fly together, they drink together, and finally, on a debauched weekend leave in New York City, they sleep together. A declaration of love seems out of the question, but Dan can no longer perform in bed with his girl, and Matt, who is married and the son of a Lutheran minister from Long Island, is racked with fear and guilt. By the time Matt makes a life-changing decision to leave his wife, dissolve his marriage and move in with Dan, the inevitable tragedy strikes, and the movie earns the nickname "Top Gun meets Brokeback Mountain" for obvious reasons.
The problems that dilute the impact of Burning Blue are numerous, but they center mainly on the confused directorial debut of D.M.W. Greer, who co-wrote the script with Helene Kvale. The confusing trajectory is cluttered with flashbacks and dream sequences in which whole scenes seem to be missing. No sexuality is displayed between Dan and Matt beyond looks of dewy-eyed longing. After their tryst with two girls in a gay bar, Dan is shown buttoning his shirt and gazing down at Matt, who wakes with an outstretched arm resting on an empty pillow.
Even when he's brought up on charges and threatened with a dishonorable discharge, Dan arrogantly refuses to allow his father, the admiral, to dismiss the case without defending himself. Neither his developing relationship with Matt nor the eventual redemption he seeks with his old friend, Will, is satisfactorily developed. Equally clumsy is the feeble attempt to accurately document the torture and humiliation endured by closeted military personnel resulting from the hypocritical policies 20 years ago that required gay soldiers to hide their sexual orientation in exchange for the freedom to serve without harassment.    
The actors are all first-rate, especially Trent Ford (Gosford Park) and Rob Mayes (Enough Said), both of whom seem destined for big-time careers. They make their limited time count in small, believable ways. But what can any actor do with dialogue like, "We are warriors paid to defend this country, not spill our guts and frolic in the daisies."