[vimeo 96820610 w=600 h=337]
When most people think of the Singularity, they imagine a robot takeover that will subjugate and destroy the human race — not an effort to restore creative balance and defend human authenticity. Pix Nix, a new project out of a&g Labs, built a robot to do just that by taking on the epidemic of tired Instagram tropes.
"The best thing about Instagram is that it captures and shares a person's unique perspective," Pic Nix says on their site. "Sadly, unique perspectives have started to become anything but. And certain clichéd, unoriginal posts have reached epidemic proportions."
There's one major hitch in finding a simple software solution to the selfie scourge: Instagram doesn't allow for desktop publishing or third party APIs. The only way to upload posts is by actually typing out a post on the mobile app. Pic Nix considered outsourcing the job to interns, but decided instead that the solution was clearly robots.
"A single robot, to be exact," Pic Nix says, "We call him SILENT B.O.B., and B.O.B. allows us to publish the photos in real time, 24/7, without us torturing interns."
The process goes like this: you go to the site, type in an Instagram handle, and select which crime that Instagrammer is guilty of — options include sunset and latte pics, posting too often, beach photos ("get a job") and shots of an airplane wing snapped from coach. You select a pre-made caption, and SILENT BOB — as to what the name stands for is anyone's guess — manually builds the post, tagging the offender and publishing it anonymously on the @pixnixer account.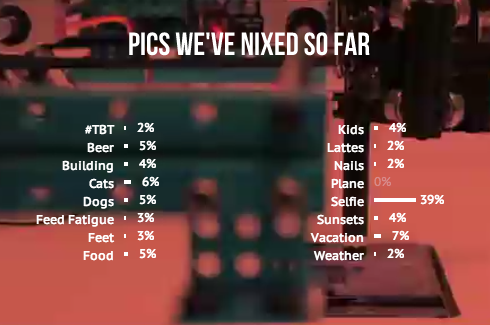 We tried this on ourselves, taking a shot at our own gorgeous Instagram photos of our shoes. Within minutes, we got a push notification from pixnixer: "Thanks to your Instagram feed, I now have a more intimate knowledge of your shoe collection than you do." Burn.
Of the 16 possible crimes-against-social-media, selfies account for an overwhelming 39 percent of grievances filed by SILENT BOB so far. If we all band together, though, we might just be able to eradicate ground-up perspectives of skyscrapers, too.