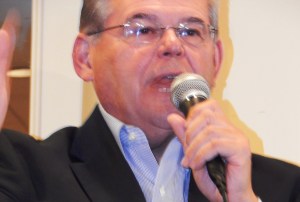 By CHASE BRUSH
HOBOKEN – As President Barack Obama deploys up to 300 military advisers to Iraq help quell sectarian violence, U.S. Sen. Bob Menendez (D-NJ), chair of the Senate Foreign Relations Committee, denounced the Islamic State in Iraq and the Levant (ISIS) as a national security threat and applauded the president's efforts to find unity in the embattled middle-eastern country.
For the moment, he doesn't want any combat boots on the ground in Iraq.
Menendez reached back to the 2002 Iraq War resolution over ten years ago, which set the stage for the American military's return to the scene of the first Gulf War.
"Look lets remember, or at least let me set the framework for that question," Menendez told reporters today. "I didn't vote for the War in Iraq. I think it was one of the most colossal mistakes that was made in U.S. foreign policy, it was a war of choice not a war of neccessity, and trillions of dollars of national treasure and so many lives were lost. So we have been dealing with the aftermath of that reality.
"Right now, I think the President is on target in two respects," the senator added. "Number one, ISIS is from my perspective a national security threat. They not only want to have an arc that goes from Syria through Iraq but, if they could, into parts of Saudi Arabia."
That is a concern in an ungoverned area with the threat of a terrorist organization that even "Al-Qaeda stiff-armed."
"And so we have our own national securtiy interests in dealing with ISIS,' Menendez said. "Now to deal with them intelligently you have to have high valued targets. And to have high valued targets you have to have the intelligence — both satellite imagery and otherwise — to know what those targets could be so you can stop their potential threat to us and their march.
"Secondly I think the president is on target because he's saying what I said last year when Prime Minister Maliki came to visit me on the Senate Foreign relations committee, which is unless you govern inclusively we will neve be able to see the solidarity and inclusivity of Iraq," he added. "And unfortunately the Prime Minister sees every Sunni … as a threat. He has not had an inclusive government and the consequences of that is that those citizens of Iraq are not citizens of Iraq and therefore they are unwilling to fight for their country. So unless we can have some who can govern… then no airpower is every going to solve that problem. So I think he's right to insist on an effort or a leader that would bring national unity to purpose. In those two respects he's moving in the right direction."
Asked if believes the number of military advisers Obama is recommending for the mission to be appropriate, the senator said, "I think that those advisers are there to help the Iraq are effectively target ISIS, and I think to the effect they are there to help in that respect — to help them target and assist them in suggesting what kind of attack them should take on those targets — that that makes sense. Obviously, I don't support nor would I any combat boots on the ground. I do if we get the right intelligence and high-value targets, I would support strikes, whether by drones, offshore missles, or other means, that would really undermine ISIS ability to move forward and give the Iraq people a chance for themselves, but at the same time protect our national security interests both here at home and in the region."