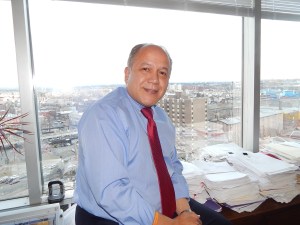 Due to be sworn-in tomorrow, Paterson Mayor-elect Jose "Joey" Torres has a full-fledged theatrical set-piece planned that will set Passaic County Democrats' teeth grinding amid the fanfare.
Some publicly unresolved appointments also have Dems on edge.
With dramatic flair ripped straight from Hudson County's Brian P. Stack (the Union City mayor and 33rd District state senator) and superimposed on Paterson, Torres has called on Republican Gov. Chris Christie to swear him into office.
The optics of the governor mounting the stage with Bible in hand is meant in part to send a signal to the Passaic County Democrats – State Party Chairman John Currie and U.S. Rep. Bill Pascrell (D-9) among them – that Torres will simply go around them if he must.
The former mayor (2002-2010) defeated the Democratic Party establishment-backed candidate last month and now appears intent on rattling the power center a little more.
Along with Christie, Torres' financial benefactor, powerful Ocean County GOP Chairman George Gilmore, will be in attendance.
So will Pascrell, who despite his disappointment over the loss Torres dealt to Councilman Andre Sayegh, means to man up and attend Torres' ceremony.
Torres and Pascrell have talked during the transition phase. The congressman wants the mayor-elect to absorb his redevelopment vision for the Great Falls, a sticking point with department Mayor Jeff Jones.
Allies close to the congressman, too, have expressed misgivings about Torres empowering unsuccessful mayoral candidate Dave Gilmore (no relation to George), who during the mayoral campaign expressed interest in heading the city's Department of Community Affairs.
Pascrell disliked two of Gilmore's ads – one a web video and the other a mailer – the latter targeting his son Bill Pascrell III and his lobbying ties and the former making reference to "The Boss" in a swipe at the elder Pascrell.
Democrats would be happier if Torres doesn't reward Gilmore, but it may be impossible to stop, a party source conceded, noting the closeness with which the mayor-elect and the last-place finishing contender worked during the campaign.
Then there's the matter of former Passaic County Sheriff Jerry Speziale.
After falling out of favor with Currie and the party and surfacing during the campaign with a full-throated endorsement of Torres, rumors continue to abound that he may leave his job as police chief in Pritchard, Alabama and assume control of the Paterson Police Department.
That would irritate Currie, a source said.
Finally, Torres sources say the mayor would prefer 3rd Ward Councilman Bill McCoy – who backed him during the mayor's contest – over 5th Ward Councilman Julio Tavarez, who supported Sayegh – as council president.
Sayegh will relinquish the throne to one of those two men, sources say, in a backroom battle that has Torres laboring hard to reward McCoy and Sayegh allies trying to deliver the seat to loyal soldier Tavarez.